CAT has a range of pro-quality cordless power tools including hammer drills, impact driver,  circ saw, jig saw, recip saw and the DX11 drill/driver, which I've been using for the past couple of months. The DX11 features a brushless motor powered by an 18V battery. A major advantage of brushless motors is the reduction in friction inside the motor, which means less wear on internal components and less heat build-up, resulting in a longer motor lifespan. Because the electrical connection is controlled digitally, rather than mechanically (by brushes), brushless motors run more efficiently, transferring more power to the drive shaft. Like brushed motors, they can heat up, particularly under a heavy load. However, they're more effectively cooled.
The DX11 comes in a kit with two 2.0Ah (36Wh) batteries, which is a is a good choice for furniture makers, finish carpenters, and DIYers who want decent runtime, but a lighter tool. Carpenters will likely want to opt for a 4Ah (72Wh) battery or the 5.0Ah (90Wh) graphene battery for maximum runtime.  Adding graphene to lithium batteries increases energy density, enabling them to deliver better performance and increasing the battery life span. The batteries also full recharge in only 20-minutes.
The kit comes with a 4Ah fast charger that fully recharges a 2.0Ah battery in 35 minutes. You also get a decent hard shell case that has enough space to carry a third battery.  The case is durable, waterproof, and lockable. The rounded corners are a nice feature as well, as they're less likely to get caught up on other tools or stock when stored in your truck.
At just under 4 pounds with the battery installed and an 8″ head length, this is one of the lighter and more compact full-size drill/drivers on the market. I found it to be quite well balanced, and I like that it sits steadily on its bottom (the battery case) when set down. However, when doing overhead work, or drilling in confined spaces, I'd switch over to a lighter 12V drill.
Similar to most drill/drivers the DX11 contains an LED work light. I find them helpful when working in poorly illuminated areas, and they consume minute amounts of battery power. The light on this drill illuminates upwards, just in front of the chuck and it's surprisingly bright.
For drilling and driving tasks, the DX11 delivers two speeds – 0 – 6000 RPM and 0 – 2,000 RPM, and it has 18 clutch settings. This is a good range of speeds though I would have preferred a wider range of torque settings. I use the clutch quite a bit to set screws to the right depth.
The DX11 is rated at 600 in/lbs of torque – quite respectable for an 18V drill/driver. The problem here is that you have to take all torque ratings with a grain of salt. There are no performance standards when it comes to measuring torque, so it's somewhat misleading to compare torque values from different manufacturers. At best, it serves as a  general guide of motor output.
You get an all-metal ratcheting single sleeve locking 1/2″ chuck on this drill, which is important, as it's the front end of the drill that takes most of the hard knocks, either in the workshop or on a job site. The chuck locks quickly and holds bits securely without any slippage.
I like seeing the rubber bumpers on each side of the housing – they'll help to absorb any impact, particularly when laying the drill on its side.
With a top speed of 2,000 RPM and maximum no-load torque of 600 in/lbs the DX11 can handle just about all your drilling and driving needs. In use there was no sign of thermal stress. The DX11 had no trouble driving a 1″ spade bit and a 2-3/8″ hole saw through dimensional lumber and  OSB.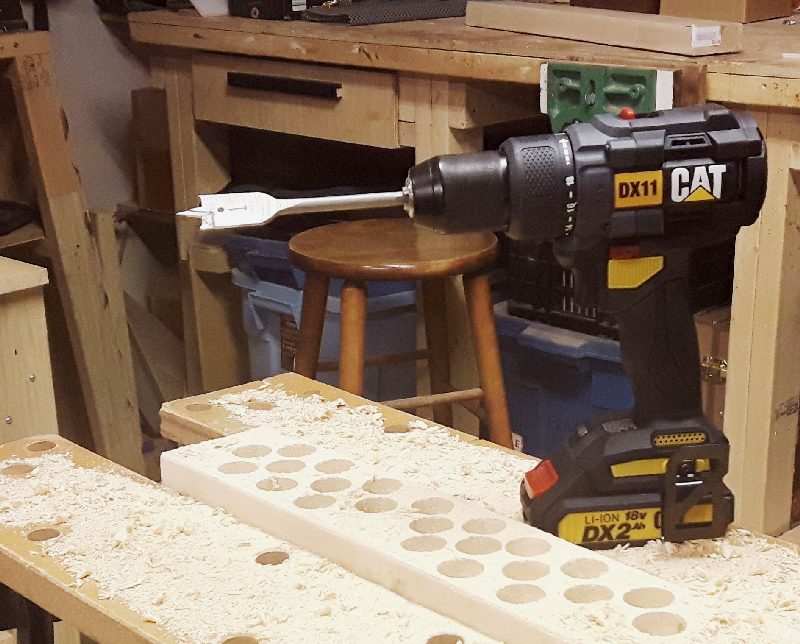 Sinking screws and lag bolts proved to be no problem either. The DX11 can power a #10-3″ deck screw completely through a 2 by 6 like a hot knife through butter. Sinking tapcon screws into concrete was a piece of cake, as was setting 1/2″ x 6″ lag screws.
The DX11 has the look and feel of a premium drill/driver with the build quality, features and power renovators, tradespeople, service technicians and avid DIYers can rely on. I'd rate it on par with the Milwaukee 2805-22 or DEWALT DCD780C2.