Router tables come in three styles – bench-top, stationary, and mounted (typically between the front and rear rails of a table saw). A table-saw-mounted router is an ideal choice for really small shops as it doesn't take up much extra floor space. Bench-top models are also great space savers, particularly for anyone who won't be doing a lot of routing, as they can be easily stored under a workbench. And, of course, bench-top models are portable. If shop floor space isn't an issue and you want to maximize your routing potential, then choose a stationary router table.
If you have the time and skill set, and would like to save some money, building your own table is a reasonable option. Otherwise, consider buying a table – particularly if you are new to the craft. You'll be up and running in no time. Regardless of whether you build or buy, the style of table you choose will depend on a variety of factors, including shop size, how much routing you'll be doing, the type of routing you expect to be doing, and your budget.
As with any shop machine, you want to purchase a router table that will last for years, and provide consistently good performance. Here are some features to consider that will make your purchasing decision easier.
Bench-top, stationary and mounted are the three main types of router table. Bench-top router tables are nice when space is very tight, but are generally smaller and less robust. Stationary ones are quite popular, but take up more room. Mounted router tables, like this King Canada version, are generally attached to a table saw and are quite solid and durable. (Photos by manufacturers)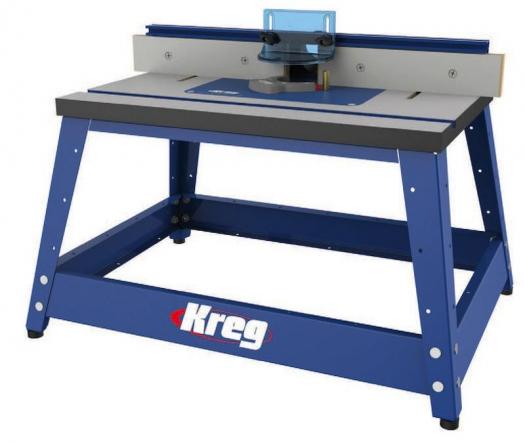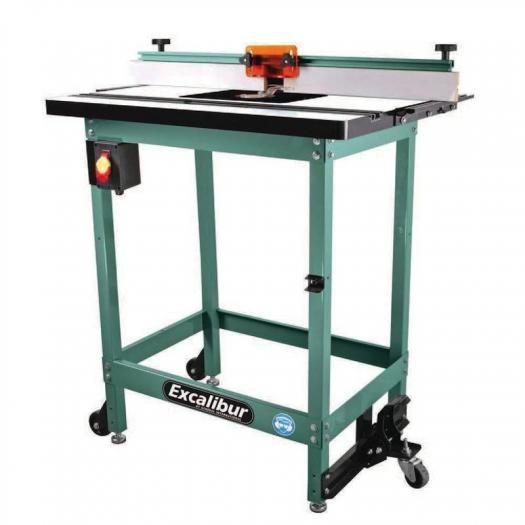 You want a top that is flat to begin with, doesn't deflect once a router is mounted under the top, and remains rigid over time. Otherwise, you'll find it difficult to obtain consistently precise and accurate results. In general, a heavier top is less prone to sagging and helps reduce vibration. Choices, from least to most rigid, include MDF (covered with plastic laminate), phenolic resin, and metal (aluminum, steel or cast iron).
Likewise, ensure that the base plate to which the router is attached is rigid and flat. The plate needs to rest perfectly level with the table top and not shift in use. Leveling screws embedded into the underside of the tabletop make it easy to adjust the base plate. Alternately, you can use a router lift instead of a base plate.
If you plan to use the same router for both hand-held and table-mounted routing, ensure that the process of installing and removing the router from the table and base plate is quick and easy. If you do opt for a stationary table, and you install a router lift, bite the bullet and purchase a second router that you can leave permanently attached to the table. It makes life a whole lot easier. Ensure the tabletop has an integrated mitre track. It will enable you to use a mitre gauge, mitre sled as well as some types of featherboards and accessories.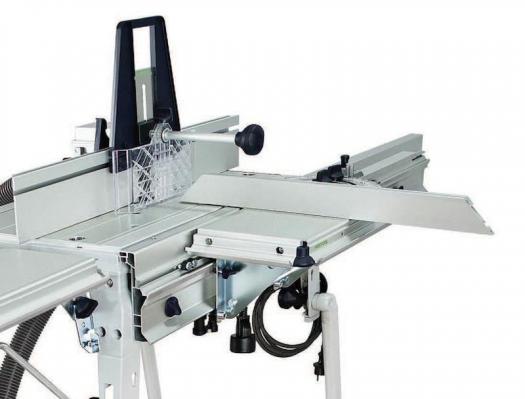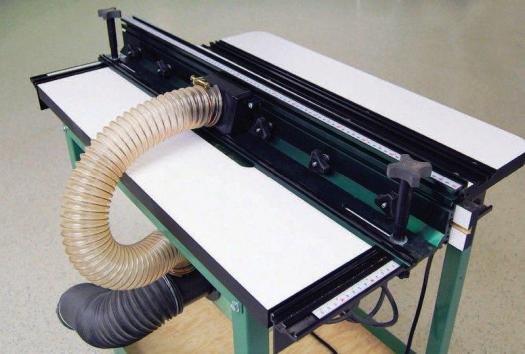 As on a table saw or jointer, the router table fence is indispensible. It has to be dead square to the top, quick and easy to adjust, and yet remain immobile when locked in place. A taller fence offers greater stock support for when pieces are machined on their edge. Because the fence is adjusted so frequently, it's important that the fence locks are easy to adjust.
A fence that has two movable sub-fences, called a split fence, allows for better chip collection than a continuous fence. Split fences also help to reduce tear-out because they act like a zero clearance insert on a table saw, reducing the open space on either side of the bit. Also, supporting stock close to the router bit makes it safer when routing stock.
Some fences have T-slots integrated into the top or face of the fence. These enable you to mount various accessories, including hold-downs, stops, featherboards and micro adjusters.
You really don't want to have to reach under the router table to access the power switch – especially if you need to turn off the power quickly. It's much more convenient, and safe, to have a remote power switch located somewhere easily accessible. A large paddle-style switch mounted to the base can be easily reached or activated with your hand or knee pressure.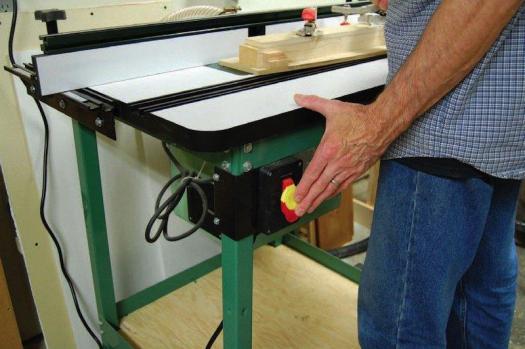 Probably the most frequent setup operation a woodworker will perform on the router table is raising and lowering a bit followed by changing router bits. If you mount the router on a base plate, you will have to reach underneath the tabletop to adjust the bit height, and you will have to lift the router and base plate out of the table to change bits. Some routers allow for above-table height adjustment, though you may still have to reach under the table to depress a spindle lock if the router has one, or to release the motor clamp. You may also find that the collet doesn't fully extend above the top, making it awkward to remove the collet nut.
An alternative to a base plate is a router lift. It consists of a carriage to hold the router motor, a ratcheting mechanism to raise and lower the carriage, and a base plate. A removable crank handle, inserted into the base plate, enables you to make very precise height adjustments. It's pretty much the ultimate in height adjustment and easy bit changing.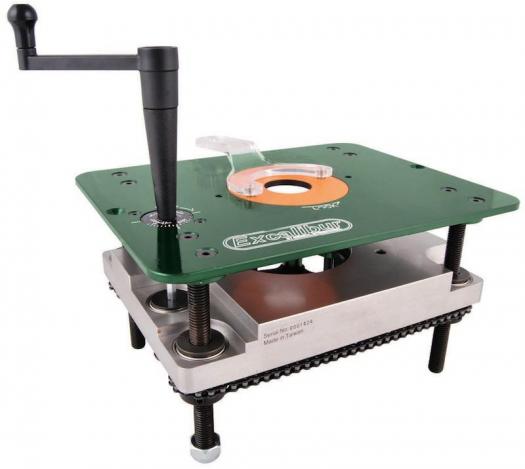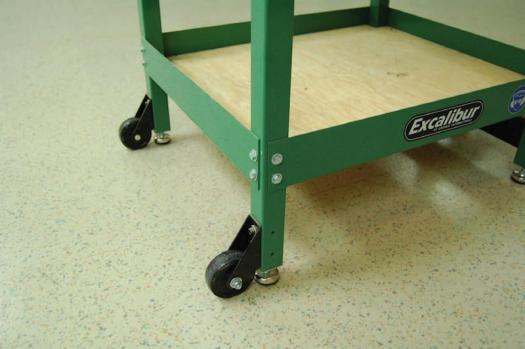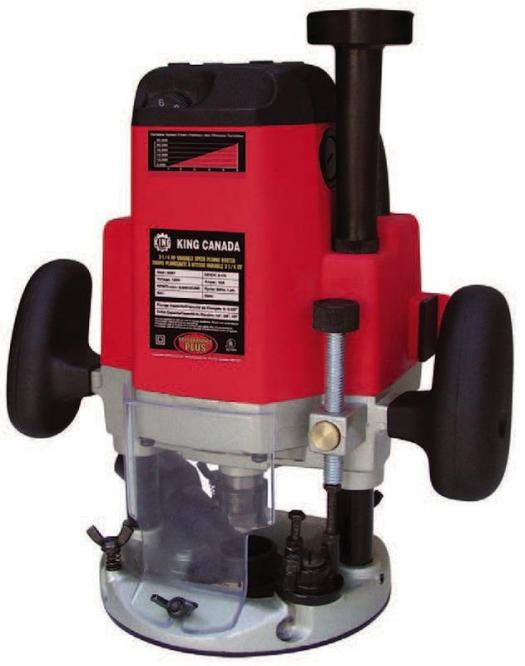 The ideal height of a router table is one that enables you to work comfortably and safely. A table with leveling feet will not only enable you to customize the height, but you'll be able to adjust the top so that it is level and doesn't rock. Casters are important if you will be constantly moving the table about the shop.
Even though this list ends with routers, they are arguably the most important component of a router table system. The right router for your router table will depend, in large part, on the kind of work you do, and the style of router table you choose. If you will be working on small projects, almost exclusively with small router bits, or buying a bench-top table, then a midsize router (1-1/2 to 2-1/2 HP) would be sufficient. Otherwise, install a production router (3 HP or larger). It will run cooler than a mid-size router and have the power to run even the largest panel-raising bits.
A router table's ease of use, versatility, and accuracy will transform your woodworking, and is sure to become one of the most useful machines in your shop.