Just about all the renovators I know have an oscillating multi-tool in their kit, and those that don't usually plan on buying one after they've had a chance to try out the tool. And it's not just renovators who love these tools. Plumbers, electricians, cabinet and flooring installers, and carpenters of all ilk find them indispensable for a host of tough jobs –  undercutting door casings and jambs; making plunge or pocket cuts into drywall, paneling or flooring; cutting mortises for hinges and door knob striker plates; cutting out sections of molding or trim work; cutting nails so that trim work can be quickly removed; flush trimming copper or plastic piping, screws, and nails; scraping away paint, grout, caulking, and adhesives; sanding into tight corners; and a bevy of other tasks.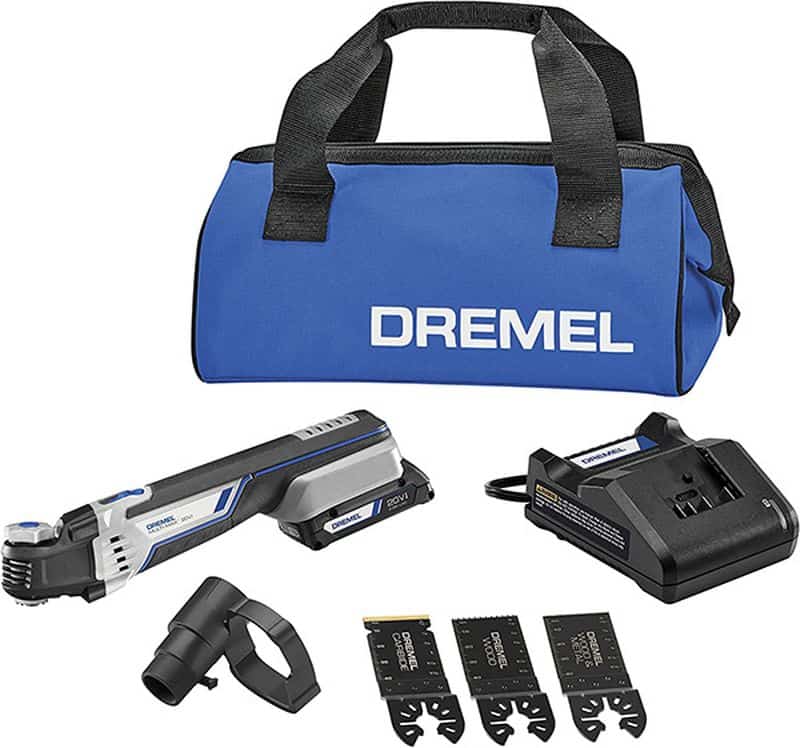 The Dremel MM20V is the newest oscillating tool on the market (as of 2022) and replaces the older Dremel 8300-01 with a 20V Max battery, a tool-free blade design and an angled body for better tool control.
The MM20V has been outfitted with a 2Ah, 36 watt-hour battery (#B20V20) that delivers enough power for a wide range of cutting, sanding, scraping and similar tasks.
The feature I found most appealing on the MM20V is that you no longer need a hex key to install an accessory. You simple loosen a clamping knob atop the tool and then press down on the clamping knob to release pressure on the clamping flange. Place the accessory on the flange, and then turn the clamping knob to secure the accessory in place. You can mount accessories in 7 locking positions from +90 to –90 degrees.  The process is reasonably quick to do. When you loosen the clamping knob the accessory won't necessarily fall off the clamping flange. So don't use your fingers to remove the accessory – blades in particular can become very hot in use. Tap the tool head lightly against a work surface to release the accessory (or remove it using gloves).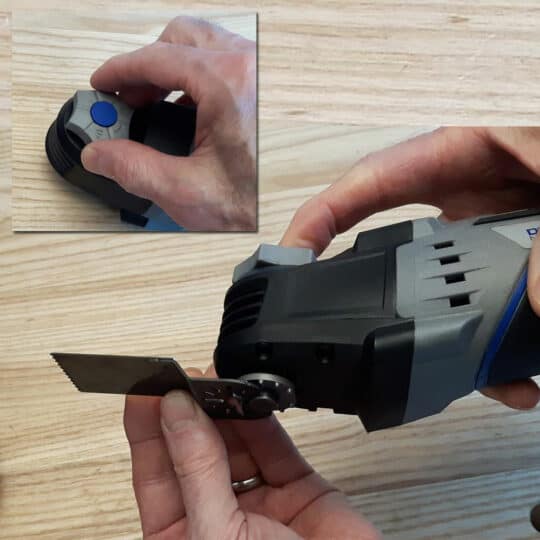 Another feature that I like is the angled head on the tool. This keeps your hand (and the tool) farther away from a work surface so your less likely to rub against the surface and it keep the accessory more parallel to the work surface. I found this worked very well when flush cutting.
Oscillating tools don't create as much dust in use as other power tools but you still want to keep your work area clean. Dremel accomplishes this by means of a removable dust extraction adapter that slides over the front end of the tool. Attach the end of the adapter to a 1-1/2″ shop vac hose for almost 100% dust extraction.
The MM20V isn't super light, but it's no heavier or more bulky than other oscillating tools I've used. However, vibration is noticeable at all oscillating levels and particularly at the highest setting. Using the tool in short bursts was fine, but I found for more than 3 to 4 minutes continuously was quite uncomfortable.  As with most high speed tools it is quite loud, again, most noticeable at it's highest setting (measured on my smartphone app at around 72dB) – you'll want to use hearing protectors if you use it for more than a few minutes at a time.
The tool comes with three 1-1/4″ wide straight blades – an 18tpi wood/drywall blade, a 20tpi bimetal wood/metal blade, and a lovely 22tpi carbide blade which should last 20 to 30 time longer than a standard bimetal blade. Dremel also has a range of other accessories – blades and a triangular sanding pad plus triangular sanding sheets. The selection isn't overly large, but suitable for a fairly wide range of tasks. You can also find 3rd party accessories that will fit the MM20V from companies like Imperial Blades.
The MM20V is an easy tool to use single-handed, and it has ample power to carry out the sanding, scraping, and cutting jobs it's designed to do. If you won't be using an oscillating tool continuously for long periods of time, then the MM20V will do just fine. It's as well suited for avid DIYers and hobbyist woodworkers as it is for tradespeople. It's so darned handy for doing the small stuff that a conventional circ saw, sander, jig saw or angle grinder are just too big and awkward to handle, particularly in difficult to access places.