All 3 Carvin' Jack multi-tools are the same length (4-1/4″ closed) but vary slightly in their width (7/8″ for the Carvin' Jack to 13/16″ for the Pocket Jack). Each tool includes at least one 1-1/2″ long detail knife and an assortment of other blades and gouges.
The blades and gouges are made of high-carbon spring-steel (hardened to Rc55) that are hand sharpened to a razor finish so you can get straight to work. They don't require any additional honing. The cutting edges hold up remarkably well and are easy to sharpen.
The ergonomically designed handles are made of aerospace-grade aluminum with a cross-etched pattern on both scales that make these multi-tools very comfortable to grip for extended carving sessions. The crosshatching seems to be deeper on the Spoon Cavin' Jack than on the other two. I like that Flexcut has used different coloured handles on all three of the multi-tools – this makes it easier to differentiate them.

The final similarity in these tools is the unique blade locking mechanism. When you pull out a component it automatically locks firmly into position. You release it by pressing a locking lever on the back spine. They're a little stiff to open. On the top side of each is a very small finger nail groove – they're very shallow and if you clip or bite your fingernails to the quick, extracting a blade or gouge might be a tad difficult.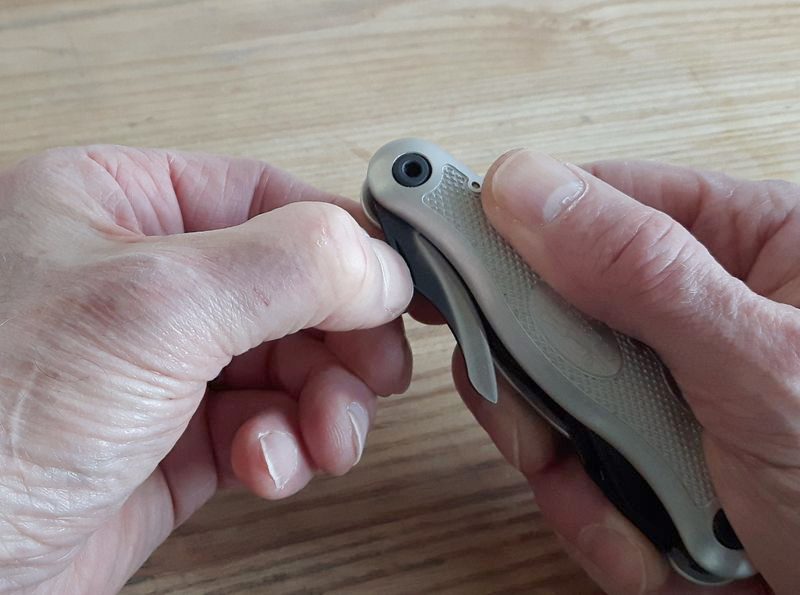 Weight: 4.4 oz
Includes (L to R): Pelican knife, V-scorp, detail knife, 3/4″ radius hook knife, gouge scorp, straight gouge
The Carvin' Jack has a good all-round selection of carving tools that you'll find useful for a range of projects. It's the only model that is available in either a right- or left-hand version. It comes with a nice leather sheath (JKN06, $20.95) and a SlipStrop (PW12, $19.95) that includes a small bar of Flexcut Gold polishing compound for keeping the cutting edges razor sharp. I find it useful to spend a few minutes at the end of each carving session honing any of the blades I used. You can also purchase any of these accessories separately. You can use the sheath with any of the three multi-tools.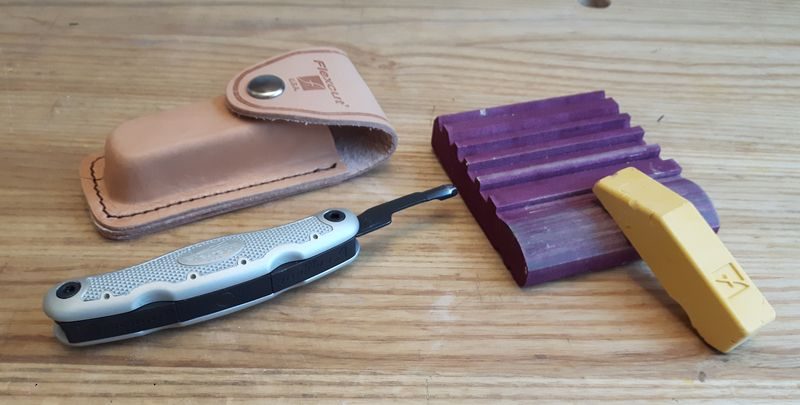 This is the first time I've used a pelican knife and I quite like it. The curved blade seems to make it easier to make shearing and peeling cuts and working oblong shapes. The radius hook blade works well for making small scalloped cuts and working the bowls of small spoons.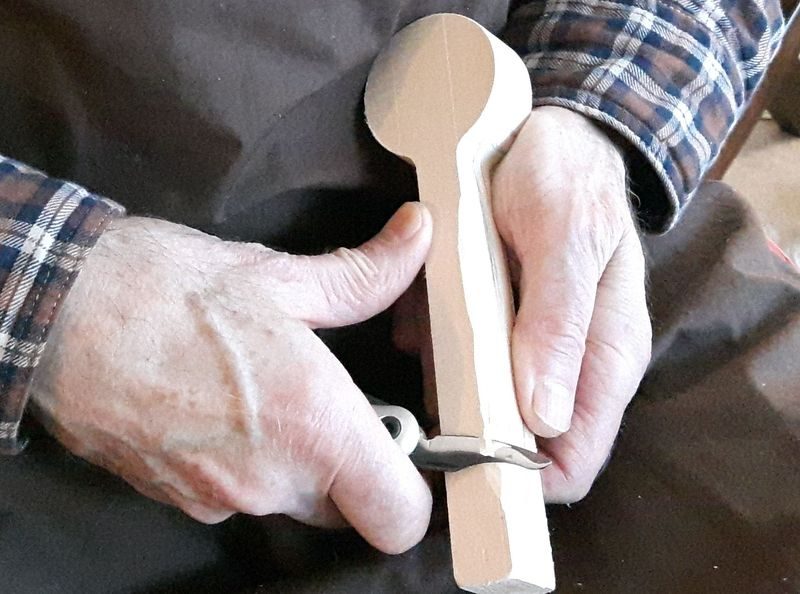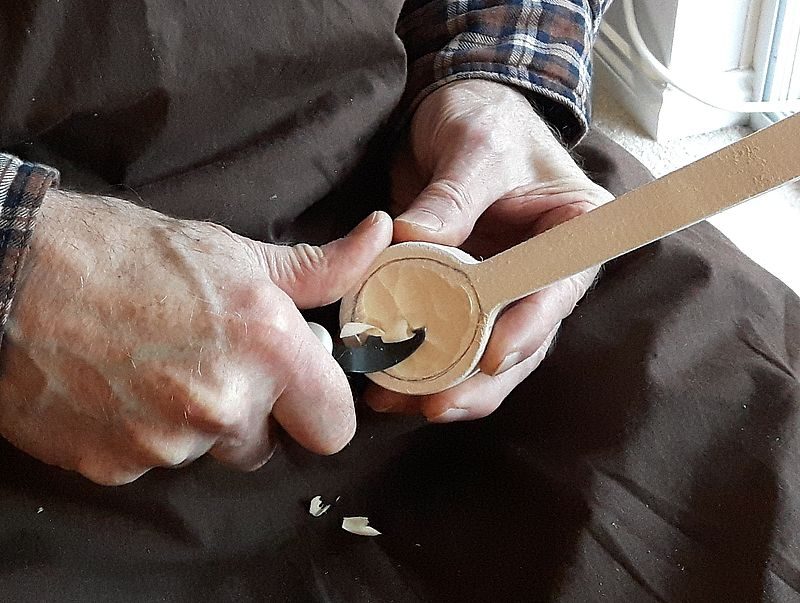 Weight: 4.0  oz
Includes (L to R): Gouge scorp, 3/4″ radius hook knife, pelican knife, 3/8″ to 1/2″ radius hook knife
Similar to the Carvin' Jack you get two blades on the Spoon Carvin' Jack, but the detail knife has been replaced with a variable radius hook knife. This is a sweet gently sweeping blade that's ideal for carving a wide variety of concave shapes. The little tip gets into tight spaces better than the detail knife. It works equally well for peeling cuts, working oblong shapes and for detail carving from various angles.
Weight: 3.9 oz
Includes (L to R): Detail knife, V-scorp, straight gouge, gouge scorp
This is a scaled down version of the Carvin' Jack – it doesn't have the Pelican knife or the 3/4″ radius hook knife. I think it makes a good multi-tool for whittling and general carving, and for texturing wood surfaces (with the straight gouge and scorp). Personally I would rather have a V-scorp rather than the gouge scorp. While it's the lightest of the 3 multi-tools it's still a tad bulky to carry around in pants pocket. Get yourself a sheath or toss it into your everyday carry bag.
If all you want is to carve spoons, then you might consider Flexcut's Spoon Carving Kit (KN70, $135.00). It includes two high-carbon steel Sloyd knives with 2-1/2″ blades – a stub and a single bevel deeply curved hook knife. The knives have beefy 4-1/2″ long cherry handles with a brass ferrule. The blade tang runs all the way through the handle.  The kit also comes with a 7-3/4″ long basswood blank. Like all Flexcut tools these come razor sharp.
To give you an indication of hand size, I wear medium size gloves. In use, I found these handles just about the right diameter. However if you do find them a bit too chunky you can always whittle or sand them to size.
There is no flex in either blade. Pushing is my preferred method of using the stub knife. The spine is about 1/8″ thick providing a decent surface against which to push with your thumb. The same goes for the hook knife when pulling the blade – you can exert a lot of controlled force with your forefinger on the spine. I can use that finely tapered blade from heel to tip on spoons, inside curves and concave shapes.
While sharpening the stub knife doesn't pose a problem, the hook knife is a different story. You can cobble together your own sharpening rig to sharpen and hone the inside edge of your hook knife, or purchase Flexcut's Hook Sharpening Set (RW19, $54.95). The set comes with two 'wands'. The Hook Hone uses abrasive paper – it comes with 400- and 600-grit paper but you can use any wet/dry sandpaper in the grit of your choice. The Hook Strop has a leather surface to which you apply a polishing compound (the set comes with Flexcut's Gold Polishing Compound). You'll want to hone your hook knife after each carving session. You only need to sharpen when the cutting edge becomes slightly rounded or chipped.