While Helly Hansen (HH) may be more widely know for their skiing and sailing apparel they also have an extensive line of workwear. Over the last several months I've had the opportunity of trying several different pieces of their work clothing. Overall, I've been very impressed with the quality and performance of the clothing.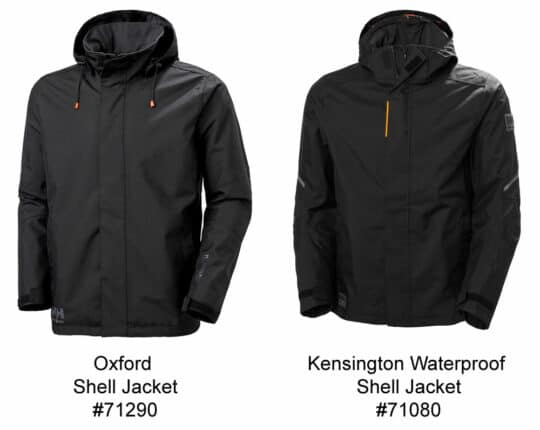 The Oxford and Kensington jackets, like many other HH products, are available in a wide range of sizes, typically from about XS to XXXXL. These jackets, designed for cooler weather, incorporate LifaLoft™ insulation. Compared to standard insulation used in clothing LifaLoft is about 20% lighter due to it's unique fibre structure – the small air pockets trap warm air and the more air pockets there are, the more warmth they provide. Another advantage of LifaLoft is that it doesn't absorb moisture.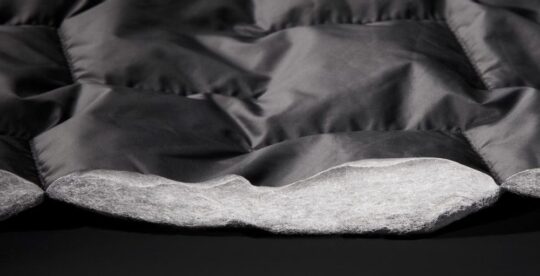 The jackets are made of a multilayer breathable polyester ripstop fabric that is water and windproof. The ripstop design makes the fabric more resistant to tearing and ripping. All the seams are sealed with tape – the most effective form of seam sealing.
The detachable hoods can be adjusted with drawcords and, at the back of the hood, by a Velcro fastener (on the Oxford) and a drawcord (on the Kensington). This enables you to conform the hood for a better fit depending on the head gear your wearing, without narrowing your field of vision. On windy days you'll appreciate the extended back and adjustable cuffs and hems that help to keep the wind out.
Each jacket has two large side zippered pockets. There is an additional inside chest pocket on the Oxford and two on the Kensington.  A additional bonus on the Kensington is that the left side chest pocket is accessible without having to open the jacket.
Another great feature is the articulated sleeves that keep the jackets from riding up your torso too much when you lift your arms up. Even though these jackets are breathable, I really appreciate the underarm vents (pit zippers) on the Kensington jacket.  They help vent excess body heat so you perspire less.
If you dress in layers either of these jackets work well from early fall to late spring. They're reasonably light, super comfortable, water and windproof, durable and good looking.
More so than jackets, work pants take a lot of abuse in the work shop and on the job site. I've worn a variety of different work pants over the decades – everything from blue jeans to cotton duck canvas to lightweight cotton/synthetic cargo pants. Cargo pants have served me fairly well of late, as I no longer use a tool belt and work mostly in the shop. The cargo pants I favour have hip, back and leg pockets that enable me to carry a variety of small tools.
The HH Oxford and Chelsea work pants are a marked improvement over the cargo pants. The Oxfords are constructed of lightweight cotton and elastane (spandex), which makes them durable, flexible and comfortable (whether standing, sitting, bending or stooping) for all-day wearing. Both pants are lightweight enough to wear throughout most of the year. Double stitching just about everywhere makes the pants extra durable.
The Chelsea, though slightly heavier, are in my view, even more comfortable due to a blend of 4-way stretch fabric and Chelsea cotton fabric. They also have Cordura fabric reinforcement on the knees. Cordura is a proprietary fabric noted for its wear and abrasion resistance and overall high level of durability.
Both pants feature a crotch gusset that adds to overall comfort, reinforced fabric at the knees (where much of the extreme wear takes place), kneepad pockets (accessible from inside the pants) and a reinforced bottom hem with 5 cm leg extensions (anyone who is extra tall can lower the bottom leg rim). They don't come with knee pads – you'll need to purchase them separately if you use them.
Belt loops are large and sturdy with an extra wide (3″) loop at the back that provides good support. On either side are double Velcro loops for a hammer holder.
Both pants have ample pocket storage – the usual side and back pockets, 'flap pockets' that hang over each side pocket, leg pockets and hammer loop. There's enough real estate here to store a surprising amount of small gear. The flap pockets aren't removable.
The flap pockets have a decent size main pocket (large enough for a smartphone or wallet) and multiple slots for small items. While they're quite durable you likely wouldn't want to store pointed objects in them – think nails and screws. On the Oxford you get 8 standard pockets and 8 slot pockets while on the Chelsea you get 9 standard pockets and 7 slot pockets. The slot pockets are great for storing narrow tools, pencils, pens, pocket knives and the like. There is another small hammer loop below the right side slot pockets which I found too small for a framing hammer.
Both of these pants fit me to a T and I can easily wear them all day long without any discomfort – I can easily kneel, bend or sit without much restriction.
All this adds up to pants that are comfortable, durable, functional and long-lasting.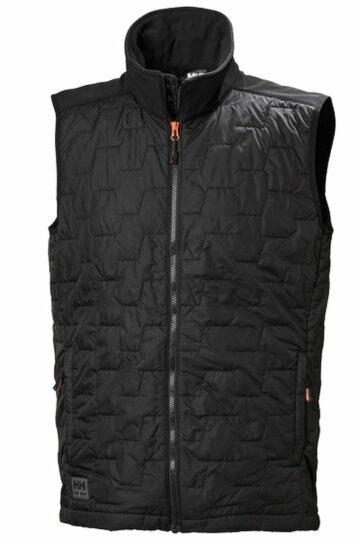 In the spring and fall I typically wear a hoodie for part of the day. It keeps me warm without overheating but doesn't restrict movement as much as a jacket does. After wearing the Kensington Lifaloft Vest on and off over the past few months I'm converted.
This vest is outrageously light – just under 13 ounces – and the Lifaloft insulation keeps my torso warm but not toasted. The 4″ high collar keeps my neck warm and as the day heats up (or as I do) it can be folded down. The two external zippered pockets are big while the two internal pockets are, well, enormous. The bottom of the vest is about 6″ below my belt, providing good coverage for my lower back. You can adjust the fit on the bottom by means of elastic drawcords inside the hand pockets. The polyester shell isn't as abrasion resistant as nylon but is more resistant to UV damage, most chemicals and is better at repelling wind and rain. Great fit and comfort.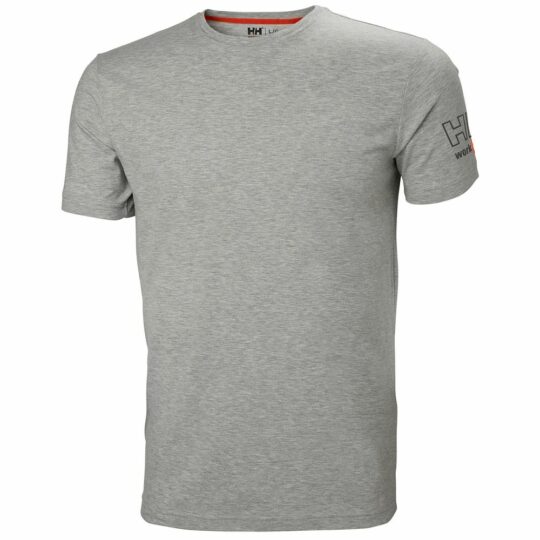 I've found that for optimal comfort in any weather or working condition the best way to dress is in layers. I combine the layers according to the temperature, weather conditions and the work I'll be doing throughout the day. I always wear a moisture wicking inner layer – typically a cotton t-shirt, which does a good job of absorbing body moisture and keeps me from feeling damp.
This true-to-size t-shirt, made from 92% cotton and a dash of elastane (spandex) is super comfortable. I like that it's long enough to tuck into my pants. It feels great and has just the right amount of stretch. I've washed it several times and it keeps it's shape (without ironing).
HH's beanie (black only in a one size fits all) is made with Lifa and Merino wool. Lifa is HH's proprietary polypropylene fabric that is 100% hypo-allergenic, 100% recyclable and is also anti-bacterial. It's significantly lighter than polyester but has considerably more insulation value and absorbs much less water.  The Merino wool adds warmth and softness to the beanie. I found the beanie fits great and is very comfortable to wear – even for long periods of time.
To carry your garments to and from a jobsite (or to transport your sport gear) there is the HH water resistant duffle bag. At just over 12″ high, 13″ wide and almost 25″ long (about 60L volume), it can carry a heck of a lot. Two sets of large (1/1-2″ wide), comfortable straps are configured for a range of carrying options, including backpack-mode. There is an external shoe compartment and a table pocket inside. A large high quality YKK zipper makes for quick access to the the bag's contents. I would like to have seen removable straps on this bag. Nonetheless, it's a simple, versatile, well-made functional bag that carries your load.