Clear-Cut Stock Guides are a unique guide roller system to guide your stock on a router table. They operate on the same principle as a stock feeder – the stock is guided at a slight angle as it is fed forward. Feather boards have their limitations, but with the Clear-Cuts there are no limitations.
Why it's Hot: The NEW Clear-Cut Stock Guides effectively steer your stock towards your fence. Stock is pulled tightly to the fence, and the grip force of the urethane rollers holds it securely in position. You can have complete control of your stock even when routing wide boards or large panels. Clear-Cuts retail for $99.90 per set.
A.G.E. saw blades and Pro-Series router bits provide industrial quality, professional cutting tools at affordable prices. A.G.E.'s thin- and full-kerf saw blades perform crosscut, miter, and general rip and cut applications in hard and soft wood, laminates, veneered plywood and chipboard. Pro-Series router bits are available in various profiles, including straight plunge, flush trim and raised panel. A.G.E. saw blades start at $39.60 USD.
Why it's Hot: The A.G.E. line features popular saw blades with an exclusive ArmorMAX non-stick coating to reduce friction, deliver smooth cuts, prevent rust and improve overall blade life. Pro-Series router bits feature latest in anti kickback design technology, which restricts chip width, resulting in safer bits.
amanatool.com
agecuttingtools.com
A close replica of the Edward Preston & Sons, Ltd. model 1374 round-bottomed spokeshave, this tool is as elegant as it is effective. At 6-3/4″ long overall with a 3/8″ radius sole, it is smaller than typical spokeshaves and is designed for fine smoothing and shaping. Our version is investment cast in stainless steel and faithfully reproduces the polished scrollwork and scalloped borders of the original. The lapped PM-V11 blade is 1-3/8″ wide and 3/32″ thick with a 30° bevel, and clamped with a thumbscrew and cap iron. Made in Canada. 15P17.01Cast Round Spokeshave $59.00
Innovative, multi-patented precision flat, two-sided diamond sharpener is guaranteed to provide consistent, even sharpening every time and offers a large, wider diamond surface for sharpening a variety of edges. Stone: 10″ x 4″ x .38″ Base provides knuckle clearance and versatility. Base: 12.2″ x 2.2″ x 4.6″
Why it's Hot:
· Dual diamond: fine for razor sharp; extra-fine for polished edge
· Fast & easy sharpening. No messy oils needed—sharpen dry or with water
· Base works with all DuoSharp Bench Stones or any 6″ x 2″ stone
· Made in USA MSRP $167.69
A beautiful hardwood box provides a perfect gift presentation for the three 6-inch bench stones, offering a sharpening surface to satisfy a variety of edge care needs in home or shop. Box includes rubber feet to secure to work surface. Stones: 6″ x 2″ x 3/4″ Box: 7.75 x 7.25 x 1.25
Why it's Hot:
· Three diamond stones: Coarse quickly restores an edge to sharp; fine for razor sharp; extra-fine for polished edge
· Fast & easy sharpening; no messy oils needed—sharpen dry or with water
· Hardwood box for convenient storage
· Made in USA MSRP $111.43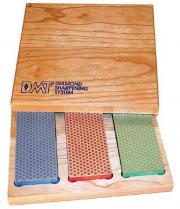 Festool's newly released Carvex 420 Jigsaw is arguably the best jigsaw on the market. It offers multiple baseplates for cutting wood, wood-like materials, plastics, and metals, adapting to your needs and multiplying your capabilities to tackle your most challenging tasks.
Why it's Hot: The innovative features. The Carvex 420's robust design, triple blade guidance, LED stroboscopic lighting array, zero-clearance Splinter-guards, brushless motors, and revolutionary tool-less base change system delivers the most versatile, adaptable jigsaw cutting system around.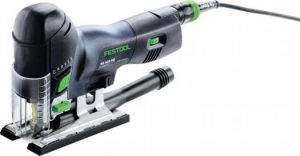 The rugged and low-profile SYS -Cart allows users to create custom assortments of tools and accessories for job-specific tasks. The large locking casters easily maneuver cracks and obstacles for smooth portability, and the large locking latches grip each component securely to keep everything in its right place. All this, coupled with the SYS -Cart's wide base and 220-lb. load capacity, ensure the stability and organization of your gear, and minimal fatigue for you.
The most versatile jigsaw on the market is also the most portable, thanks to the cordless version of the Festool Carvex 420 Jigsaw. With all of the revolutionary offerings of its corded brother, the new Cordless Carvex 420 really lets you cut loose. With its powerful, long-lasting 4.2 Ah battery, you can cut precisely and accurately, anywhere.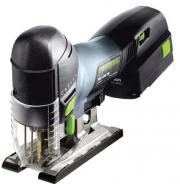 The easy-access, open-face design of the SYS -Toolboxes makes you more efficient through better, more easily accessible organization. Keep everything you need within easy reach and eliminate searching for frequently used tools and accessories. A perfect complement to the Festool Systainer System, SYS –Toolboxes latch seamlessly and securely to the top of both T-Loc and Classic Systainers.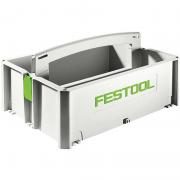 Festool has always led the league in jobsite storage systems, and they're only increasing their lead. Now, they've redesigned their popular Systainer for easier access and faster connection. The new T-LOC (Lock, Open, Connect) features a single point latch that allows for easy, one-handed access with a simple twist of the wrist. They can even be opened when connected to other T-LOC Systainers, and are compatible with the traditional Systainers and the Sys-Dock feature of the Festool CT Dust Extractors. Impact- and weather resistant, the new Systainer design also features customizable label inserts, so you can be more organized than ever before.
With a load capacity of 220 lbs, the new SYS -Roll weighs in at a mere 14.3 lbs to provide a simple, convenient means to transport your Festool Systainers to and from the worksite, no matter the terrain. Its integrated storage features secure small parts essential to the job at hand, the reinforced risers manage stairs with ease, and the large, locking casters ensure that your stack stays put.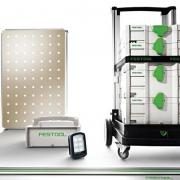 When GREX introduced the P635 (shoots pins from 3/8″ to 1 3/8″), 23-gauge pinner in 2002, it was immediately recognized by users and the woodworking media as the most powerful, reliable and sophisticated pinner on the market. It still is. This P635 tool packs numerous ergonomic features into a fine tool that will help you become an even better woodworker.
Why it's Hot: A 20-year tool that offers precision fastening, rear exhaust, swivel air coupling, no-jam engineering and perfect balance in a tool that will do just about any fastening you might want to do inside the shop.
See the videos at grexcanada.com
The trim carpenter's pinner. For the past 8 years, the GREX P650L has been the favourite pin nailer of cabinet installers, architectural millwork installers and finish carpenters due to its unrivalled power, 20-year build and unique features. It shoots pins from 3/8″ up to 2″ into the hardest woods, including African hardwoods. When time is money, professionals choose GREX.
Why it's Hot: The P650L is perfectly at home in the shop and on the job site. Features include anti-dry-fire PLUS a 7 pin reserve tank you access at the push of a conveniently located button. No more empty shots.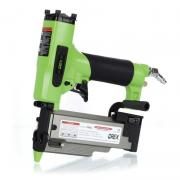 There's a reason why, after only 3 years on the market, the 1850GB "Green Buddy" is the No1 best-selling tool at GREX. In addition to being built like the proverbial brick —- house, the Green Buddy resolves the shortcomings that trim carpenters have with their present 18-gauge tools. And it does that very well indeed.
Why it's Hot: The 1850GB delivers bullet-proof construction, anti-dryfire, removable soft tip, bump fire, depth of drive that does not slip, rear exhaust, swivel air coupling, and a stepped magazine for accessing tight corners.
See videos at grexcanada.com
Stocking Retail Dealers
BC: Clermont's Ultimate, Midland, Richelieu, Summit
AB: Calgary Fasteners, Canadian Woodworker, Edmonton Fasteners, Richelieu
SK: Construction Fasteners, Canadian Woodworker
MB: Canadian Woodworker, Felder
ON: Art's, Atlas, Complete Equip., Federated, Markham Industrial, Millbank, Ottawa Fasteners, Richelieu, Tegs, Welbeck Lumber
Qc: Elite, Pierre Berger, Richelieu, Summit
NB: Fundy Grinding
The Trend #DWS/CS/FF is a new unique double-sided 600 grit fine/1000 grit extra-fine credit card stone. Standard 300/grit/600 grit stones are great for a variety of sharpening applications. However; there have been many requests for a more durable stone with finer sharpening capacity. Laser etched grit sizes are right on the stone for easy identification. Also, the stone is almost twice as thick, for stability.
Why it's Hot: Particularly useful for wood carvers as it is easy to finely hone carving tools in hand or on a work surface. For this reason, James Barry has dubbed this new product, "The Carver's Stone." The Trend Carvers Stone (Part #DWS/CS/FF) MSRP: $35.97 Available at Authorized Trend Distributors.
An easy to use, dry sharpening system for chisels, plane irons, lathe & carving tools and more. Precision sharpening port has repeatable bevel angle settings: 20°, 25°, 30°, and 35°. Routed air flow and heat-sink cooling system. With NEW Tool Bar Attachment ($59.95): A faster, more consistent and repeatable way to sharpen lathe turning tools.
Why it's Hot:
• Sharp blades mean better results
• Complete, frustration free sharpening system for your woodworking tools
• Consistent sharpening results
• Dry, air-cooled sharpening means less water mess
Complete package: two glass wheels, one Edge-Vision wheel, complete abrasive kit, instructional DVD, and more! $249.99
In celebration of Grizzly's 30th Anniversary, they have taken two of their most popular saws and created a special edition color scheme that is sure to be the eye candy in workshops and small businesses nationwide. The G0555LANV is the exact same machine as the G0555LX except for anniversary special edition colors. Grab one quick, these are sure to sell out fast!
The G0555LANV 14″ Deluxe Bandsaw has many of the same great specifications and features as the extremely popular G0555, but with the following notable differences:
• Computer-balanced cast iron wheels
• Rack-and-pinion guide post adjustment for upper blade guides
• Sturdy T-shape fence design
• CSA certified meeting CSA C22.2 #71.2-10 and UL 987-8th standards!
Why it's Hot: This is the best selling 14″ bandsaw in the USA with industry magazine awards and reviews from end users. It features precision-ground cast iron table, quick-release blade tension lever, deluxe extruded rip-fence, miter gauge and more and now comes in eye-catching glossy black color. Cost: Limited Time Offer $445. Reg.$545 USD
The new 14″ Wood Bandsaw with 12″ resaw capacity comes ready to work. Features include adjustable ball bearing blade guides, 2 speeds, 4″ dust chutes, quick release blade change lever, sturdy square cast-iron tilting table, magnetic safety switch and safety foot brake which also disconnects electrical circuit for emergency shut-off, and a precision "TRU – RIP" aluminum rip fence with resaw guide.
Why it's Hot: A serious piece of equipment in a tidy package, ideal for limited space yet perfect for any sized shop. Also, its precision balanced cast-iron blade wheels and machined tables are ideal for detailed scrolling cuts or heavy duty resaw work.
King Canada's recently introduced 20 Volt max lithium-ion cordless drill driver & impact driver combo kit comes with two 20V MAX, lithium-ion batteries for longer run time, a 45 minute quick battery charger, heavy-duty high torque gear box • ½" keyless metal chuck (Drill), Universal 1/4″ female hex. drive quick release chuck (Impact) and sturdy carrying case.
Why it's Hot: The power of lithium-ion, with superior performance and a price that will surprise you. Build your next project with this kit and you will quickly see the value.
ASI-HVLP offers Apollo Sprayers' HVLP expertise to a new marketplace: DIY, small workshop and semi-pro finishers. Providing unprecedented HVLP turbo power, the ASI-HVLP turbine systems consist of three models, the ECO-3 (3-stage), ECO-4 (4-stage) and, for the first time, the ECO-5 (5-stage). Supplied with a choice of two high quality Apollo Spray Guns. The ECO-series is ECO-nomical and ECO-logical.
Why it's Hot: Innovative Eurodesign style, QT sound reduction filters for quiet performance, and 80-90% transfer efficiency to reduce the cost of coatings. Great to spray a wide range of low to high viscosity finishes on wood projects, metal and more.
Apollo Sprayers lead the world in essential HVLP spray application technology for serious craftsmen. Apollo offers the 1050VR 5-stage HVLP turbine system with 22% more power, low overspray, variable speed, pressure control and other unique precision and safety features, coupled with the award winning Apollo 7500 Spray Gun. The Apollo 1050VR lets you dial in exceptional finishing quality every time.
Why it's Hot: Apollo 1050VR provides increased power, ultra-fine atomization of low to high viscosity coatings or paints. Now you can automatically calibrate HVLP turbine speed, see it on an LCD read-out, and easily replicate a high quality finish time after time.
The new Dremel Saw-Max is a compact, handheld saw that allows users to easily make precise, clean and straight cuts in a wide variety of materials using compact cutting wheels. Adhering to the Dremel brand characteristics of compactness, precision, ergonomics and versatility, the Dremel Saw-Max is the new go-to cutting tool for DIYers, woodworkers, hobbyists and crafters. Offering added cutting depth and control, the Dremel Saw-Max allows users to Cut with confidence. Retail Value $129.00
The Dremel 4200 rotary tool features the patented Dremel EZ Change system. The Dremel 4200 is the only rotary tool that allows users to change accessories completely wrench-free for fast and convenient accessory changes without having to take time away from the task at hand. With its high performance motor designed for the most challenging applications, and precise control at all speeds, the new tool requires less effort to complete a broad range of tasks. TheDremel 4200 is compatible with all Dremel accessories and attachments and offers new features not found in any other corded rotary tool on the market. Retail Value $149.00

Sharpen dull and broken drill bits with Drill Doctor. Don't get stuck in the middle of a project and run to the store for a new bit- just sharpen it and get back to work. Drill Doctors can sharpen a wide range of point angles and drill materials, probably everything you own. Visit website to learn about special offers.
Why it's Hot:
• You already own a lifetime supply of drill bits. Now sharpen them and save money!
• Fast, easy, works every time
• Sharper than new results
• Saves money – pays for itself in just a few sharpenings
• Models to fit any budget
• Durable- three-year warranty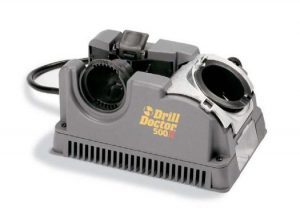 Introducing the Best of E-Cut by FEIN; genuine, made in Germany saw blades for maximum performance and best quality. Fits all commercially available multifunction tools (OMT). For MultiMaster users: full compatibility, no compromises. For all others: new application options, faster and better performance. FEIN MultiMount E-Cut saw blades guarantee highest reliability, even in the toughest of applications. From $8.99 each.
Why it's Hot: Ideal for improving the performance of other oscillating tools, but unbeatable when used with the FEIN MultiMaster. Maximum cutting performance and perfect results, the best quality, the best service life, and the best price-performance ratio. Dare to compare!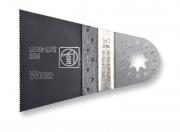 This popular CNC machine now available at Busy Bee Tools. Its popularity is due to its ease of use (very little computer knowledge needed) and its overall quality. Create beautiful 2D & 3D images on wood, acrylics and more. Add something special to your next project, create beautiful one-of-a-kind gifts, or add a new element of design to your business.
Why it's Hot: Until January 11th 2014, this unit is on sale for only $1999 (Regular price $2349) plus a BONUS $100 in-store credit. Compare this to other units at $2299 and up.
DEWALT 's new 20V MAX XR brushless lithium ion impact driver with EXTREME RUNTIME . Features a DEWALT – built brushless motor, delivering up to 57% more runtime versus standard brushed motors. It's compact size (5.55″ front-to-back length) is ideal for tight spaces and has a three-LED light ring surrounding the chuck, with a 20-second delay after trigger release, to provide visibility without shadows. Also has a one-handed loading chuck for easy accessory changes. The ergonomic handle delivers comfort for all-day use on the jobsite. Ideal for deck building, commercial framing, overhead door installation, HVAC , electrical, and plumbing & mechanical fastening applications.
DEWALT 's new line of heated jackets can be powered by DEWALT 20V MAX or 12V MAX lithium ion batteries. When used with DEWALT 20V MAX or 12V MAX battery, they provide hours of core body warmth and continuous heat. Three different styles to choose from: soft shell work jacket, hooded work jacket, and True Timber camouflage jacket. Each jacket offers water- and wind-resistant outer shell, an LED controller with three temperature settings plus preheat mode, and three core body heating zones: left and right chest, and back. The soft shell work jacket and camouflage jackets offer a fourth heating zone in the collar.
dewalt.com/tool-categories/cordless-work-gear.aspx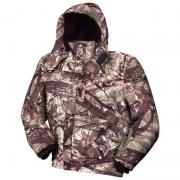 The CT053 is one of Busy Bee's best selling dust collectors. With 1HP, it is perfect for the small shop. Designed to tackle one machine at a time, it has proven more than capable of handling table saws, planers, jointers and more. Also features 510CFM, a 1 micron upper bag and a 3 year warranty. You can even upgrade this unit with the addition of a canister filter.
Why it's Hot: Until January 11th 2014, this unit is on sale for only $149 (Regular price $265) making it unbeatable in the Canadian market.
In celebration of Grizzly's 30th Anniversary, they have taken two of their most popular saws and created a special edition color scheme that is sure to be the eye candy in workshops and small businesses nationwide. The G0513ANV is the exact same machine as the G0513 except for anniversary special edition colors.
Why it's Hot: For those that need a respectable cutting capacity at a respectable price, Grizzly offers this full-featured 17″ Heavy-duty Bandsaw. The 2 HP motor powers through wood up to a maximum 12″ cutting capacity, and the 16-1/4″ throat is plenty for most applications. Features include deluxe fence, heavy-duty miter gauge, dual 4″ dust ports, micro-adjusting geared table, and European-style blade guides. Feature-packed at a hot price!
Limited Time Offer $795. Reg. $895 USD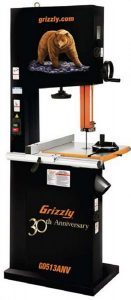 Anniversary edition of our classic 10″ Grinder in glossy black color! Sharpen just about any cutting tool to a razor sharp edge in no time at all. Designed in Germany, this 110 RPM wet grinder with leather stropping wheel is so versatile and simple to use, you'll wonder why you ever put up with dull edges before. The durable 2″ wide grinding wheel runs in a water bath to keep tools cool while sharpening and the leather stropping wheel hones to a fine razor edge. Ideal for wood turners, woodworkers, and knife makers.
Why it's Hot: You won't find another German-designed tool of this caliber, at this price, anywhere but Grizzly. Thousands Sold at an incredible price.
Limited Time Offer $159.95. Reg. $199.95.
Fuji Spray T-Series Spray Gun offers ultimate flexibility and control in a sleeker ergonomic design. This spray gun features an exclusive side-mounted Pattern Control Knob, a 1.3mm Air Cap setup, Stay-Cool nylon handle, a Rear Rotating Nipple for pressure tube attachment. Assembled with your choice of a center mounted 600cc gravity cup or a 1 qt. bottom feed cup.
Why it's Hot: The Fuji T-Series with these exceptional components is a leader in the market. Our new sleek design is ergonomic and well balanced. You will achieve that flawless performance and remarkable outcome every time. It's Canadian Technology!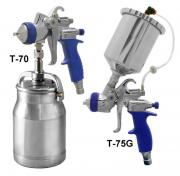 The Brand New 14|12 from Laguna marks the company's first entry into the popular 110-volt category. Like all Laguna bandsaws, the 14|12 is designed to satisfy even the most demanding woodworker. Electronically and dynamically balanced cast iron wheels, pyramid steel frame and solid cast trunnion paired with the famous Laguna ceramic guides makes the 14|12 stand out from the crowd.
CAD 1250.00
Why it's Hot: The Laguna 14|12 Bandsaw features 12″ resaw, 1 3/4 HP, worm gear and pinion, oversized trunnion, steel frame, Hi/Lo Fence, flat poly-groove drive belt, magnetic blade guard, quick-release tension, track-window, heavy duty stand. Shown with optional wheel system, industrial floodlight and carbide tipped Resaw King.
Advanced woodworkers wanting to minimize materials waste while achieving highly precise cuts in expensive exotic hard and soft woods will find Forrest's Ultra Thin 080 Woodworker II blade ideal. With a kerf of .080″, it cuts 1/64″ thinner than most thin kerf (3/32″) saw blades. The combination of its super thin body with an alternate top bevel grind reduces resistance, tearout and waste.
Why it's Hot: Exotic woods are extremely expensive, so using the Ultra Thin 080 Woodworker II that's specifically designed to minimize waste is a cost-effective choice. This blade also makes those really thin, polished cuts essential for creating projects that go beyond the usual. List Price: $159.00 U.S.
The groundbreaking Zeta P2 joinery system is made by LAMELO, inventors of biscuit joinery. With the Zeta P2 you cut strong locking slots in your stock that are then joined with precision fitting Clamex P connectors. The process is incredibly fast and precise. And, you can easily switch the Zeta P2 for use as a conventional biscuit joiner.
Why it's Hot: The Zeta P2 is one of the fastest and easiest ways to assemble strong, precise joints in furniture and cabinetry. The fibre-glass reinforced plastic Clamex P connectors mean you won't need glue or screws, and the joints can be unassembled.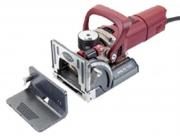 Made in Germany by Famag. The Bormax Pilot Guided Forstner Bit Set allows you to precisely drill, free hand, large holes at an angle (ie, when drilling holes for spindles on stair railing). Designed for use on soft woods, European hardwoods, particle board, and MDF. The pilot bit is fixed into main bit with an Allen wrench, which can be exchanged for a shorter point, to allow drilling into thinner materials without drilling through the piece.
Five bits: 15, 20, 25, 30, 35mm.
Why It's Hot: The centre hole extends all the way throughout the Bormax bit's shaft to allow jammed or frozen bits to be pushed out.
With a full 12″ resaw capacity this saw features a heavy-duty one piece steel frame, dynamically-balanced cast-iron wheels, a large 16″ x 20″ full cast iron table, deluxe upper and lower blade guide bearings, and two cutting speeds for excellent results in either hard or soft woods. Safety features include: adjustable blade guard, magnetic switch, and foot brake.
Retail price: $1594.99
Why it's Hot: The only saw you'll need to do it all! Ultra heavy-duty design, powerful 1 ½ HP motor, and deluxe Excalibur rip fence system make this 14″ powerhouse ideal for resawing as well as for general purpose shop use.
This product is no longer available
Quick-change belt tension lever and two belt platens for use with either 1″ or 2″ x 42″ sanding belts. Two 1 ½" dust ports. 3100 lin. fpm belt speed and 3450 rpm disc speed. Equipped with a ½ HP motor. 1″ and 2″ 100 grit belts & 8″ 100 grit sanding disc included.
Retail price: $329.99
Why it's Hot: Affordable multi-purpose bench-top sanding is now within reach! Sturdy simple design with cast-aluminum tables for long-lasting performance, minimal maintenance, and ease of use. Ideal for turners, sample-makers, and educational users for shaping and finish sanding small parts.
This product is no longer available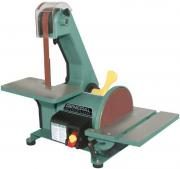 Step up to the stability of cast-iron. Kit includes: 16″ x 27″ full cast-iron table, two adjustable-length steel support legs, a deluxe 27″ router fence, and 9 1/4″ x 11 3/4″ phenolic router plate. Can be adapted to all table saws with cast table tops.* Depending on mounting location, some modifications may be required.
Retail price: $399.99
Why it's Hot: Enjoy the unparalleled flatness and stability that only cast-iron can offer. Mounts to your table saw to help save shop floor space. Deluxe, full-feature fence and dual miter slots for professional results with virtually any routing application.
This product is no longer available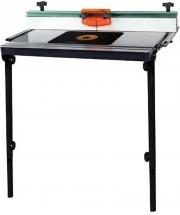 The Oneida Air Systems family of Dust Deputy's are high efficiency cyclonic pre-separators for wet/dry vacuums and single stage collectors. Patented cyclone design separates 99% of the waste before it reaches your system. Made of static dissipative plastic and are simple to use. Compact footprint and can retrofit to any system. Made in the USA.
Why it's Hot: The Dust Deputy converts your single stage collector or shop vacuum into a super cyclonic dust collector. The Dust Deputy keeps the filter in your collector or shop vacuum from clogging during use and helps keep a constant air flow with no loss of suction.
See website for Canadian dealers
PORTER -CABLE is adding six new cordless power tools, new combination kit solutions, and a new MaxPack extended runtime 20V MAX* Lithium Ion Battery to the popular 20V MAX* Linked System. The new cordless tools include the Reciprocating Tiger Saw , 6-½ inch Circular Saw, Oscillating Tool, Cut-off Tool/Grinder, Jigsaw, and Pivoting Flashlight.
The PORTER -CABLE MAX* Linked System maximizes a lithium ion battery platform that provides the performance, ergonomic design, and features needed to complete an extensive range of applications on the jobsite. These batteries maintain charge up to 18 months, so tools are ready to go when you are. Available at Lowe's.
New for 2013, RIDGID power tools present the 18V Drill and Impact Driver combo with Bonus Radio. With a compact drill and impact driver that feature best-in-class torque, this kit also includes a bonus 18V radio that's AM/FM and MP3 compatible for only $199. As always RIDGID power tools offer customers the industry leading Lifetime Service Agreement.
Why it's Hot: With (2x) 18V batteries that are compatible with all other RIDGID 18V power tools, this 3pc combo offers a great way to begin building a custom combo kit which can include other great tools such as Circular Saws, Grinders and Work Lights.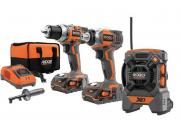 Sharpen tools easily with RIKON 's low speed setting – 1,750 RPM! (Other grinders operate at 3,450 RPM) RIKON 's lower speed means more control in removing steel from your tools. It also reduces heat buildup and 'bluing' the cutting edge – ruining the hardness & temper of the tool. This Low Speed Bench Grinder comes with ample ½HP motor, driving two 1″ x 8″ white aluminum oxide wheels (60-grit & 120-grit). Also includes heavy tool rests, safety shields, safety on/off switch with removable lock, rubber anti-vibration foot pads, and diamond wheel dresser. A quality machine, at a great price.
MSRP $139.95
rikontools.com for local dealers.
A high-speed drill should be in everyone's DIY toolbox, and its indispensable companion is the YEL-004 carbide tool set. DuraGrit's carbide burrs and wheels are long lasting, high performance accessories that come in a variety of useful shapes and grit grades.
Why it's Hot: Whether you're looking to bore and enlarge a clearance hole in a ceramic wall tile to accept a water pipe, re-shape the edge of a wall tile to fit a contour in the corner of the backsplash, cut and fit laminate flooring or carve a duck decoy, there's a Dura-Grit carbide tool in the YEL-004 tool set to suit the job. $47.98 USD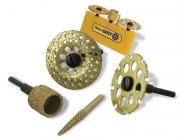 The Ryobi 18V ONE+ family introduces the new 18 Gauge 2″ Brad Nailer featuring AirStrike Technology. This battery-powered nailer eliminates the need for noisy compressors, bulky hoses and expensive gas cartridges. By internally compressing air it can drive up to 60 nails per minute and an impressive 700 nails per charge, all this at a price tag of $199.
Why it's Hot: With a battery and charger included, the Ryobi 18V Nailer is ready to go straight to work right out of the box. Being part of the ONE+ family, there are over 50 other great 18V Ryobi tools compatible with the battery and charger.
Not only is it a long-life sanding block that is the same grit grade each time you use it, it's a sander that can true a rough edge 90º to the work surface, easily round corners, or bevel edges. The TruSander will not wear down or tear, so you won't have to change worn sandpaper in the middle of a job.
Why it's Hot: It sands hard and soft woods, MDF, PVC, laminates, composites, rubber and fibreglass. Its ergonomic handle and perforated sanding plate incorporate a dust collection system that clears the debris while you work. Every home and workshop should have one. Available in 60, 80, 120 and 150 grit. $19.98 ea. USD
See video: duragrit.com/us/#handsanding
Since 1973, Tormek has set the standard for the sharpening of edge tools through its unique design and innovative jigs. To celebrate, Tormek has released a limited quantity of a special Anniversary Edition of their T-7 Model that includes everything you need: Square edge jig, Stone Truing Tool, Stone Grader, Angle Master, Owners Handbook, Honing Compound and the latest DVD.
Why it's Hot: The Tormek 40th Anniversary T-7 has a graphite grey metallic coating. In addition to the standard accessories you also get the Rotating Base RB-180 and the special Anniversary Cap. The T-7 model , comes with a 7 +3 year manufacturer warranty.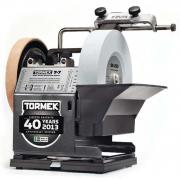 Rockwell BladeRunner blends performance characteristics of a jigsaw and a benchtop scroll saw. This innovative variable-speed saw with powerful 5-amp motor, uses standard T-shanked blades to cut a variety of materials. Perform cross-cuts, angled and rip cuts all day over the large stainless steel table top with a T-slot and a miter gauge/rip fence combination. RK7321
Why it's Hot: At 18 lbs., the benchtop saw cuts wood, PVC pipe, sheet metal, and vinyl siding by simply changing blades. Make quick, accurate miter cuts for molding and trim, picture frames or sign making and intricate inside cuts when precision counts.
The Rockwell Sonicrafter X2 features Universal Fit, the industry's first oscillating tool that accepts other branded accessories without adapters. Sonicrafter X2 includes Hyperlock, a tool-free quick-release that exerts one ton of clamping force to prevent blade slippage. The 3 amp, variable-speed oscillating tool's constant speed control, electronically maintains speed-of-cut under load. It's the most powerful and fastest cutting Sonicrafter. RK5140K
Why it's Hot: No other oscillating tool on the market has the combination of features of the Rockwell Sonicrafter X2. The exclusive Universal Fit system, plus Hyperlock tool-free design, makes it the most versatile and convenient oscillating multi-tool available to homeowners and professionals.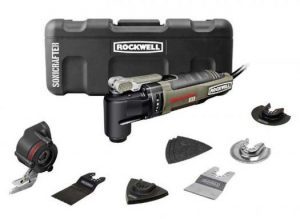 The Lightweight Rockwell VersaCut mini circular saw weighs only 4 lbs., ensures one hand operation with inner/outer blade guard design. Laser guide helps align perfect cut. Delivers quick and precise cuts, even plunge cuts in sheet goods, flooring, plastic, ceramic tile, slate or aluminum. The 3-in. diameter blade has a maximum depth of cut of 1 1/16-in. RK3440K
Why it's Hot: VersaCut is a 4-amp saw with a no-load speed of 3500 rpm and a Laserguide. Lightweight and nimble for making crosscuts and rip cuts without the bulk associated with a circular saw.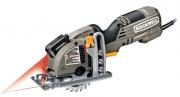 Stanley Cubix is a cross line laser, ideal for DIY and light residential construction – from leveling chair rails to hanging cabinets. Its laser has a simple to use switch with only 3 settings; off, manual, and auto-levelling. Manual setting: bright horizontal and vertical lines are projected onto flat surfaces Auto-leveling setting: the Cubix cross line laser will automatically level via internal pendulum. If angle of tool exceeds 5º from level, laser shuts off and indicator lights up, signaling it has exceeded 5º in which it is able to self level.
Stanley introduces the new FatMax Autolock tape which has a blade that automatically locks at the length to which it is extended. When the release button is depressed, the blade retracts. The auto-locking feature allows users to control tape retraction which helps to provide long blade life and reduce the risk of injury. Other features include 1 1/4 inch blade touting eleven feet of standout, coated in MylarR and features BladeArmorR coating for durability and long life. The True ZeroT end hook provides accurate measurements.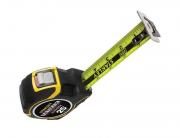 The 6-Blade Carvin' Jack is the world's first folding multi-tool for woodcarving. It's equipped with two scorps, straight gouge, a hook knife, chisel, and a detail knife. You also get a Slip Strop, a bar of Flexcut Gold polishing compound to keep your blades sharp, and a leather belt mounted sheath that looks good with jeans or even your better pants.
Why it's Hot: The only tool like it in the world – A woodcarving set in your pocket.
The 2-Blade Whittlin' Jack features a 2″ roughing knife that's great for carving walking sticks, caricatures, and much more. Its 1½" detail knife quickly removes wood from surfaces and is perfect for fine detailing and delicate work. Blades do not lock.
Why it's Hot: It weighs in at just 3 ounces and is just over 4 inches long when closed, so it neatly fits in your pocket.
Our Starter Set has everything a new wood carver needs. It includes 16 interchangeable blades, cutting knife, quick connect ABS handle, and a power handle. There's also a SlipStrop, gold polishing compound and an owner's manual showing how to care for the tools. Plus you'll find a free step-by-step, instructional DVD for a great first project.
Why it's Hot: This Starter Set contains profiles not included in any other interchangeable set. So it's a great way to add to your collection and save money.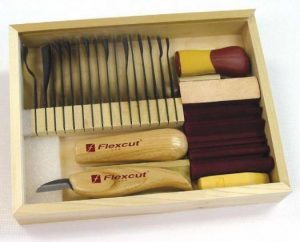 Includes 2 carving blades, interchangeable ABS handle, basswood blank, a second for practicing cuts, project DVD, and a 24-page owners manual.
Why it's Hot: Includes everything a new carver needs to tackle a first time project.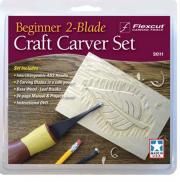 Our most popular blades into one set. The set includes 10 carving tools, instruction manual, carving blank, and 11-pocket tool roll.
Why it's Hot: Each blade is made with the same edge-holding steel as our gouges and chisels. Plus the interchangeable ABS handle.
Flexcut knives are precision made for maximum performance. Their high-carbon steel blades have durable points, hold an edge extremely well and are easily maintained by simple stropping. Each knife is expertly hand-sharpened and tested before shipping, so it's ready to use right out of the package. Comfortable, curved ash handles allow for long periods of carving without hand fatigue. In addition to those pictured, a wide range of knives are available to handle every task from roughing in to fine detail carving.
Why They're Hot: Flexcut knives are versatile, well engineered tools, 100% North American made, assembled and sourced. The top pick of pro carvers, hobbyists and woodworkers around the world.
Cutting Knife, KN12 SRP: $19.35


Detail Knife, KN13 SRP: $20.35

Roughing Knife, KN14 SRP: $22.35