Walrus Cutting Board Oil, 100% food-safe and designed for new cutting boards or reconditioning. It's a heavy-duty cutting board oil that doesn't require mul­tiple coats. It will leave your board with a silky smooth finish, rich colour and a little shine. The perfect ratio of ingredients locks in the natural wood tones while repelling water and food particles when in use. And it only takes seconds to apply. You can also use it on butcher blocks, charcuterie boards, bowls, spoons and knives.
We've packaged some of our most popular knives in the Flexcut 3-Knife Starter Set (KN500) to get you started carving today. The com­fortable curved ergonomic handle allows for long peri­ods of carving without hand fatigue. Includes KN12 Cutting Knife, KN13 Detail Knife, KN14 Roughing Knife and Flexcut Gold polishing compound. The perfect set for beginners and pros, and it's easy to maintain the razor-sharp edges.
The Flexcut Spoon Carvin' Jack (JKN96) has both a shallow and a deep hook knife designed to form the hollows of spoons and bowls. It also features a straight blade for shaping and carving fine details into the design. This tool fits neatly in your pocket, so you can carve wherever you go. The handle is made of rugged aerospace aluminum with an ergonomic design that contours to fit the palm of your hand. There is also deep crosshatching on the handle to keep the knife from slipping while carving.
flexcut.com/JKN96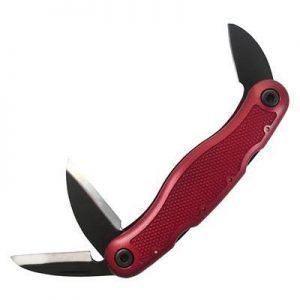 The six-blade Flexcut Carvin' Jack (JKN91) is the world's first folding multi-tool for wood­carving. It's equipped with two scorps, straight gouge, a hook knife, chisel and a detail knife. You also get a slip strop, a bar of Flexcut Gold polishing compound to keep your blades sharp, and a leather belt-mounted sheath that looks good with jeans or even your better pants.
The Work Sharp WS-3000 is a bench-mounted sharpening system for discerning woodwork­ers and dedicated hobbyists who want ultra-sharp, precision wood-cutting tools quickly and easily – without spending a lot of time or money setting up cumbersome jigs, the mess of liquid cooling, or the learning curve required to master antiquated sharpening techniques. It accu­rately grinds, sharpens and hones to a perfect 20°, 25°, 30° or 35° bevel angle and enables you to sharpen a perfect 5° micro-bevel for even faster re-honing. You can also create custom edge profiles using the horizontal, low-speed abrasive wheel.
Specifically designed for use with compact rout­ers, the Veritas Table for Compact Routers (05J6710) lets you make the most of the tool's small size and maneuverability for freehand use and adds the stability, safety and control of a router table that is compact, portable and easy to store. The sturdy 15 1/2″ × 11 1/2″ table and 14″ machined aluminum fence combination brings repeatable accuracy to a wide range of common rout­ing operations.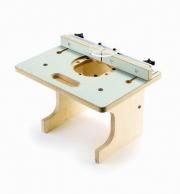 With the Veritas Card Scraper Burnisher (05K2040) you can roll precisely the sort of hook you want on your scraper. Held between the thumbs and forefingers, it gives you excellent tactile feedback that helps you maintain control of both force and angle as you run it along the edge of a scraper (typically clamped in a vise). The burnisher's relatively small size helps prevent you from pressing too hard, so you're less likely to overwork the edge. It has a 3/16″ diameter, 1″ wide rod injection-moulded into a plastic body and is compact enough to slip into an apron pocket.
The Lee Valley Router Sled Hardware Kit (15K0701) pro­vides the necessary hardware to build an inexpensive large-capacity router sled for flattening slabs. The assembled sled lets you pass your router back and forth in an XY-plane to consistently flatten an entire slab. It includes a CNC-routed Baltic birch router carrier and a pair of trunnions, as well as U-bolts, hex nuts, washers and nylon wheels. The wheels strung onto U-bolts form the glide mechanisms that allow the router carrier to travel along the rails. Made in Canada.
The 20″ Powermatic 2820ES drill press is engineered for superior torque and productivity with a gear drive system and electronic variable speed (EVS) motor. Its geared drive transfers torque more consistently and dependably than a belt drive at all speeds for use on wood, steel, aluminum and plastics. A 1 hp 8-amp motor delivers spindle speeds of 150-870 rpm (low) to 600-3600 rpm (high). It has a 6″ range of travel for the spindle and 20″ swing, and also features a removable center table, laser crosshairs for workpiece positioning, patented depth stop and premium fence with adjustable stop.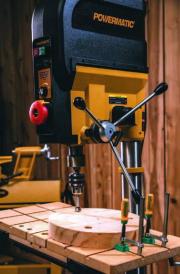 Bring the most advanced precision cutting solution to your workshop. The Shaper Origin and Shaper Workstation combine to make even the most demanding projects approachable and intuitive. Enjoy unrivalled preci­sion cutting for a variety of applications — create complex joinery, tight-fitting box joints and much more. Origin + Workstation is the "complete system" solution to unlocking next-level projects in your shop.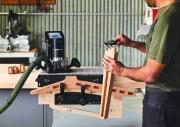 Hobbyist and professional wood­workers will find the Shark SD110, with its 12″ by 18″ worktable, ideal for milling custom parts, complex joinery, precision drilling, decorative inlaying, relief carving and decora­tive engravings. You can operate the Shark SD110 by means of a conve­nient touch screen Pendant interface that eliminates the need for a com­puter, or from your computer taking advantage of the exclusive patented Virtual Zero Unlimited programming that will adjust your design to fit curves and angles perfectly.
The Shark SD120 features a lon­ger 12'' x 24'' worktable designed for larger projects such as carving plaques or signs, ornamental boxes and precision parts machined from wood, soft metals or plastics. With the included 3D carving capabil­ity and a 3D model library you can cut beautiful relief carvings, intricate inlays and create exquisitely detailed engravings with ease. The incredible accuracy of the Shark SD120 allows you to even engrave custom circuit boards. Like the Shark SD110, the SD120 provides dual modes of operation.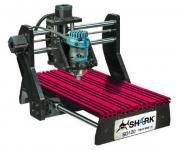 The CNC Shark II with Color Pendant Controller features a heavy-duty gantry reinforced with plate aluminum and a rigid interlocking aluminum table. It has anti-backlash, wear-compensated high-precision lead screws on all three axis and is built to handle your large 2-1/4HP routers such as the Porter Cable 890 series, Bosch 1617 series or the new water-cooled spindle from Next Wave Automation. A new electronics package expands the capabilities of the CNC Shark and allows attachments like Laser, 4th Axis and water cooled spindle.
The Shark HD510 features a 28″ by 36″ worktable that can easily handle all but the very largest proj­ects in your shop. It comes standard with everything you need to quickly get it set up and running: the latest version of Vectric VCarve Desktop design software; a colour pendant controller, two hold-down clamps, carbide V-bit; and Next Wave CNC's exclusive, patented Virtual Zero Unlimited software. Built with industrial-grade components, the Shark HD510 also features a heavy-duty aluminum and steel reinforced gantry, a new extruded aluminum router mount system, interlocking aluminum table, linear rails and guides on the gantry, and anti-backlash, wear-compensated lead screws on all axis.
With its impressive 28″ by 63″ worktable, the Shark HD520 will handle all your machining needs, whether it's in a home shop environment or on the production floor. Built with industrial-grade components, it comes stan­dard with everything you need to quickly get it set up and running: the latest version of Vectric VCarve Pro design software; a colour pen­dant controller; two hold-down clamps; carbide V-bit; and Next Wave Automation's exclusive, patented Virtual Zero Unlimited software. The HD510 is fully compatible with Next Wave CNC's extensive product line of additional accessories, such as laser, 4th axis, scanner and more.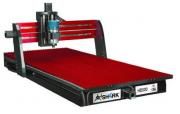 Featuring a compact 12″ by 18″ worktable, the SHARK SD100 is a full-function CNC machine capa­ble of producing high-quality 3D carvings and machinings in a large variety of mediums including wood, soft metals, plastics and other solid-surface materials. It comes with all necessary software, including VCarve Desktop for project design and Next Wave CNC's exclusive easy-to-use Ready2Control basic panel software allowing the user complete visibility and control over the entire project dur­ing operation.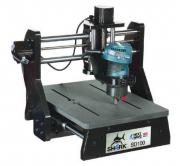 If you want a cleaner, health­ier workshop, then you need to collect dust at the source with a downdraft sand­ing table. They're portable, durable, quiet and powerful. SandMan Products LLC has tables to suit the needs of hobbyist woodworkers, small professional shops, superior and large production shops. For objects too large for sanding tables there's the Sand Pro Sanding Booth SBP10, a complete self-contained 9,300 CFM backdraft unit. With the Sand Pro Inspection Light you can easily see scratches, swirl marks and other imperfections before the material is finished.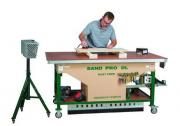 The Orion 950 Smart Pinless Wood Moisture Meter Kit is the all-in-one solution for busy professionals desiring superior accuracy and multi-tool function­ality. The Orion 950 features an on-board Equilibrium Moisture Content (EMC) calculator, Bluetooth connectivity to free smart device apps, built-in temperature and relative humidity sensor, and more. It provides true in-the-field calibration capability with the included On-Demand Calibrator. A flexible rubber boot makes the 950 durable enough to withstand your toughest jobs.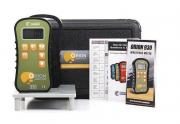 The RIKON Variable Speed Midi Lathe (70-150VSR) has been designed to offer features seen on larger industrial lathes. It has a powerful 1HP DC motor, electronic variable speed controls, a wide range of operating speeds, digital RPM readout, and ample diameter and spindle length turning capacities in forward and reverse drives. It includes spur center, live center, 3″ faceplate, 6″ tool rest with 1″ diameter post, knock-out bar, wrenches and tool holder.
Add the 13-1/2″ RIKON Bed Extension (70-903) to your RIKON 70-150VSR lathe and turn bowls and platters up to 15″ in diameter. Installs easily on the left, outboard end of the lathe bed.
The Oneida Universal Dust-Free Router Hood (AXH000001) captures nearly all the wood chips and dust produced by handheld routers from both above and below the bit. It virtually eliminates post-project cleanup, facilitating fine detail work, and reducing wear and tear on bits. Moulded from clear polycarbonate, it offers excellent clarity and superior durability. It's designed to work with most of the fixed-base and plunge-style routers from major brands and comes with multiple snap-on chip covers for edge, shallow edge and inset routing. It's made from the same material used to make bulletproof "glass", motorcycle helmets and jet fighter canopies. Incredibly tough and extremely durable. Tame the dust!
Original HALDER SIMPLEX soft-face mal­lets are solid quality tools that are ideal for use in the shop, on the jobsite and around the home. They stand out due to their versa­tility, variety and perfect finishing. You can replace worn inserts quickly and easily. Eight impact inserts with different hardnesses and diameters from 30 mm to 140 mm, three housing variants and two different handle options are available. This enables you to con­figure your SIMPLEX soft-face mallet for the requirements of the job at hand.

With products like Pica-Ink Deep-Hole-Marker and Pica-Dry Longlife Automatic Pen, Pica-Marker has modernized the marking industry and craft. They are the best marking tools you can get for the workshop or jobsite. Use them on just about any surface – wood, metal or plas­tic. They mark more clearly and last longer than just about any other marker on the market.
For anyone who owns a Fein oscil­lating MultiMaster or any oscillating tool that is Starlock Plus compat­ible, this 34-piece Starlock Plus Renovation Accessory Set offers great value at a stellar price. Packed in a convenient plastic case, it has everything you need to tackle any interior renovation job. Included in the kit are E-Cut long-life, universal, HSS, segmented and carbide saw blades; carbide file and short scraper blades; triangular and round pack­ing pads; and a range of sanding sheets.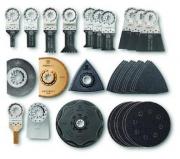 FEIN Turbo dust extractors have a reputation for being the best over­all value in quality vs price. Available in two different capacities, the extrac­tors offer superior dust management for workshops, garages and metal shops. These quiet, powerful and durable dust extractors feature auto start (the extrac­tor starts when a tool plugged into the on-board power socket is turned on) and suction control (so you can increase or decrease suction depending on the task at hand). When equipped with the proper accessories, they're suitable for wet applications.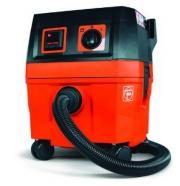 The Imperial IBOA800-1 drywall blade is the perfect addition to your oscillating accessories. This 4-in-1 dry­wall blade is versatile, allowing for all types of cuts in drywall. The slim dag­ger blade design allows for detailed cuts, especially tight circular cuts. Depth gauge increments reflect drywall thickness so you can monitor cut depth. A piercing tip initiates the cut for a clean start, along with push/pull cut capabilities, while shaver notches help remove excess drywall for a better fit.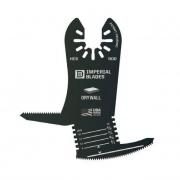 The Metabo 6″ SXE 450 TURBOTEC random orbital sander has a user-selectable sanding orbit for either fine sanding or quick stock removal. Vario-electronics enable you to work at customized speeds to suit various application materials while the TurboBoost feature allows additional power reserves to be employed for achieving maximum removal. Metabo's Power Control System elimi­nates scratches when placing the sander directly onto the material at speed. Includes a removable side handle and fabric dust bag.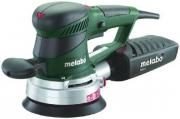 When it comes to free­hand carving on your larger projects, no other tool gets the job done better than Kutzall Shaping Wheels. Paired with a quality right angle grinder, these wheels have helped skilled craftsmen create truly remarkable things. The rugged tungsten-carbide coating allows for superior material removal and outstanding wear-life. With minimal clog­ging and effortless control, you'll use them project after project.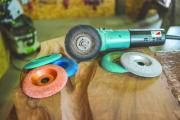 Kutzall Hand Rasps strike a fascinating bal­ance between the shaping and smoothing functions of a conventional file and the aggressive stock removal of a wood rasp. Each rasp is made with a rugged tungsten-carbide coat­ing, providing you with an aggressive, multi-directional tool that will cut effi­ciently, resist loading and stay sharp project after project. Available in flat, half-round and warding.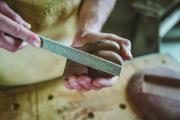 Don't be fooled by the size of this professionally designed, fully-featured cast-iron Vicmarc VL150-V2 lathe. It performs beauti­fully with up to 150% torque at low RPMs with a powerful 1 HP motor. Variable electronic controls take the spindle speed from 30 to 3,460 RPM. Vicmarc's legendary quality is evident with user-focused design features like containing the digital display and switch controls within a moveable steel box that can be mounted where it's most convenient, including attached to the belt access door. The lathe has a 300mm swing over the bed and 350mm between centres. Bed extensions of 250mm and 500mm are available to allow you to either park the tailstock or do longer spindle work. An optional adjustable stand lets you adjust spindle height range from 39.75″ to 47.25″ to increase turning comfort. Solid construction and user-focused design makes the new Vicmarc VL150-V2 a woodturner's dream.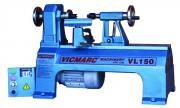 Vicmarc Chucks, the epitome of four-jaw woodturning chucks, feature impeccable machining and assembly by hand to ensure pre­cision and quality. An enclosed back keeps dust and debris from clogging the pinions and scroll, ensuring a smooth-running chuck. Chucks are operated by a T-bar Allen key, providing one-handed tightening with incredible gripping power. Chuck jaws are machined as a solid piece, cut into four sections and numbered sequentially to cre­ate a matched set to give you a precise and true running grip. A full range of jaws complement these chucks. Vicmarc chucks are available in direct thread to fit 1″ x 8″, 1.25″ x 8″ and M33 x 3.5″ spindles. Also available with a full range of thread inserts to fit your lathe.
Spektra router bits feature a micro-thin nACo (aluminum titanium nitride + silicon nitride) ceramic coating that enables the tool's cutting edge to retain crucial sharpness and lubricity – with up to 2.5 times longer life. The coat­ing prevents high heat buildup and oxidation, which are detrimental to cutting performance. There is a range of cost-effective Spektra bits to choose from for both CNC and router applications.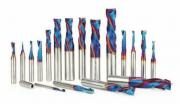 The Steel City 10″ Professional Table Saw (10-300S2) is powered by a TEFC 1-3/4″ HP motor that will give years of reliable service. Key features include a 27″ by 76″ worktable, robust steel base, riving knife, anti-kickback pawls, blade guard, dust collection under the blade for better dust extraction, an internal stop for quick 90° blade adjustment, shaft lock button, quick-release rip fence and cast-iron miter gauge with adjustable width guide bar.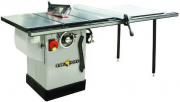 The Centurion 10″ Overarm Blade Guard (12-210) allows for efficient dust collection and ease-of-use for different cutting applications such as strip cuts, rabbeting or dado cuts. This telescopic blade cover is suspended over the material, can be locked in place, and offers 5" high clearance above the table. It consists of a solid boom made of 3″ and 4″ metal tubes, a metal frame blade cover with translucent panels, and a 23-1/2″ long by 3-3/4″ high boom support that is bolted on the side of the table saw. The whole unit can easily be removed when required yet quickly dropped back into place.
The Centurion Deluxe Mitre Gauge (12-120) is fitted with high-quality components that form a very rigid unit ensuring accurate cuts. The 17-3/4″ long guide bar is equipped with a safety disc that holds the mitre gauge on the table securely. Four adjustable pressure balls allow a tight adjustment in the table slot. It has an easy-to-read graduation scale with 13 precision machined pre-set angle holes. A rugged rubber grip makes it easy to manipulate the gauge and to lock it firmly in place at any angle.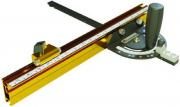 The high-quality cast-iron Steel City 17'',12-Speed Drill Press (40-310S1) features a 3/4″ HP motor that delivers 12 speed settings from 340 to 2800 RPM. It's equipped with a 5/8″ chuck and a spindle travel of 3-1/4″. Features include a cast-iron table that is left and right tiltable to 45°, an adjust­able tension spindle return spring, cast-iron pulleys to reduce vibrations, swing-away chuck guard, and a positive depth stop for adjustment.
All drill presses come with small cast-iron tables designed for metal­working. The Centurion Universal Drill Press Table (42-015) is specifically designed to meet the needs of woodworkers. The 15-1/2″ by 23-1/2″ table is made of MDF with a smooth black laminated surface to prevent damage to the stock and includes a 4-5/8″ square replaceable sacrificial table insert to prevent damage to your drill bits. There are two aluminum T-tracks with measuring scales to allow for precise fence adjustment and setting. They can also be used with hold-down clamps to keep workpieces from climbing the drill bit.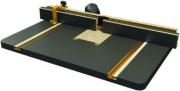 The robust steel frame and powerful 1HP motor on the Steel City 14″ Bandsaw (20-302S1) make it easy to rip lumber, cut curves and irregular shapes, and resaw lumber into thinner slabs. It has a 7-1/2″ maximum cutting height and 13-3/4″ maximum cut­ting width. Features include a 14″ square cast-iron table that tilts from -10° to 45°, a quick blade ten­sion handle, combination ball bearing and cool-block alignment guides, and a 4″ dust collection outlet. The saw takes 101″ blades from 1/8″ to 3/4″ wide.

The WORX MakerX Rotary Tool (WX739L) is one of the most ver­satile tools in the MakerX system. This brushless rotary tool features a micro-ergonomic grip to handle projects with precision and control. The MakerX Rotary Tool is 50 per­cent lighter than the leading cordless rotary tool brand. It comes with a 1/8″ collet and accepts other major brand accessories with 1/8″ shanks, which are widely available at hardware stores and home centers.  Other collet sizes, including 3/32″, 1/16″ and 1/32″, will also fit the tool. The kit includes 42 assorted accessories, Power Hub, 20V 1.5 Ah battery, five-hour charger and storage bag.
The WORX MakerX Wood and Metal Crafter (WX744L.9) is ideal for DIY projects and hobbies, as well as arts and crafts, such as creating wooden signs and embellishing leather goods, jewelry-making and metal-crafting. It features dual temperature sensors to enable the crafter to reach optimal temperature in seconds. A built-in temperature digital read­out assures that the tip's temperature is set for optimal results regardless of material or application. Its slim body design provides a micro-ergonomic grip for superior control of the .12 lb. tool. The kit includes six wood-burning and four soldering tips, a silicon comfort sleeve for users who prefer a thicker grip, and a cradle stand. Requires a WORX Power Hub and 20V 1.5 Ah battery.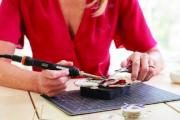 Most noticeable with the WORX MakerX Angle Grinder (WX741L.9) versus a conven­tional angle grinder is the tool's weight and the diameter of its bar­rel or handle, which is significantly smaller. Plus, the alignment of the MakerX tool and the rotating wheel along with the position of the user's forearm results in greater control with less strain. Its variable-speed ranges from 0 to 20,000 rpm, and it accepts 1-1/2″ wheels with a 1/4″ arbor including Dremel EZ-Lock wheels and 2″ wheels with a 3/8″ arbor. Requires a WORX Power Hub and 20V 1.5 Ah battery.
Its ergonomic design and light weight makes the  Evolution Hand Plane a favourite in the tool box. If the blade gets dull or has a nick while on a job, it can be replaced within seconds. Each disposable blade has two cutting edges so it can be rotated and used on both sides. No more sharpening required! Thanks to its clever design, no wood chips get caught between the blade and holder. The blade in the Rali plane is fastened by a clamping mechanism and requires no adjusting. Replacement blades are available in chrome steel and hard metal.
Get factory-sharp performance from your dull drill bits, knives and tools in minutes. The Drill Doctor X2 sharpens carbide, black oxide tin coated, HSS and masonry drill bits from 3/32″ to 1/2″ diameter (3.0 to 13.0mm). Using technology from Work Sharp Sharpeners, the X2 also sharpens kitchen knives, pocket knives, scissors, hatches and other edged tools. Backed by a three-year warranty, Drill Doctor is a brand you can trust to save time and money by extending the life of your tools.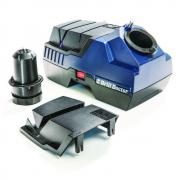 The Jorgensen E-Z HOLD Expandable Bar Clamp (#33412) allows for rapid and easy clamping and can easily be converted to spreader clamps. It opens to a full 12″, has a 3-3/8″ reach, and a 300-pound clamp­ing force. The contoured comfort grip and quick-release lever make it simple to get a firm grasp, and an exclusive patented feature lets you join two clamps together to create a clamp with more than double the opening capacity of a single clamp. Deep-reach pads help protect your work.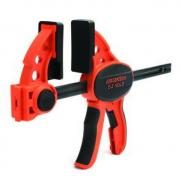 When you need instant, easy appli­cation and removal, turn to the proven durability of the classic Pony Spring Clamp (#3203-HT). They provide a 3″ opening with a 3″ reach. Throughout the clamp's range of opening, the point of pres­sure always remains at the lightweight, zinc-plated steel jaw tips to ensure they'll hold it together exactly where you need them. Poly-vinyl protected handles and jaw tips mean you can use them on metal, wood, plastic, fab­ric and beyond. And their contoured handles won't dig into your hands.
Bar clamps are a fundamental shop accessory, and Jorgensen Steel Bar Clamps (3700 series) are seri­ously strong. Cast-iron stationary and sliding heads with an orange, powder-coated finish are merged with a high-carbon, rust-resistant steel bar that packs a whopping 80,000 pounds per square inch of tensile strength. The fast-acting sliding head is acme-threaded to accommodate a cold-drawn steel screw with a large easy-grip handle and swivel pad. A multiple-disc-clutch design allows the sliding head to hold securely at any point along the bar. Available in a wide variety of sizes and clamping forces.
Complete your cabinetry proj­ects in a fraction of the time with Pony Cabinet Claws (#8510). This unique and pat­ented tool combines the various steps of face-frame cabinet instal­lation into one easy process. The high-quality aluminum claws and alignment plate have protective rubber pads to cushion and pro­tect cabinetry.
Super handy to have around the shop and competitively priced, it's no wonder that Pony Light-Duty C-Clamps (2600 series) are the most popu­lar and complete line of light-duty C-clamps on the market. The smoothly cut, acme-threaded steel screw is zinc plated and protected with a black finish for lasting durability. And the clamp casting is made with ductile iron for strength before receiving a powder-coated Pony-orange finish. Available in a wide variety of sizes and clamping forces, all with full-closing screws.
The iconic Pony 3/4″ Pipe Clamp (#50) has become North America's most popular and widely used pipe clamp fix­ture design. The original steel multiple-disc-clutch design allows a secure hold and instant adjustment at any point along the pipe, without fear of slipping or pipe crushing. Use any length of 3/4″ pipe, as long as the pipe is seven inches longer than your workpiece. Crafted with strong, durable iron castings and featuring a 1-3/4″ clamping face.
Enjoy a soft-start motor for super smooth speed acceleration, electronic speed control that delivers constant speed under load and exceptional build quality for maximum durability and long tool life. Add that to the game changing snap-fit QuickIN mounting system for super quick accessory changes and it's no wonder the FEIN MultiMaster is so popular among cabinet installers, renovators, finish carpenters, flooring installers and trades people. Reliable, durable, unbeatable.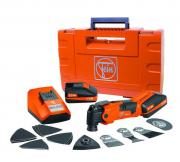 The Arbortech Power Carving Unit (PCU) is the ideal power source for all your Arbortech attachments. To use this first-of-its-kind grinder designed specifically for woodworkers, simply secure any Arbortech attachment and experience power carv­ing like never before. Equipped with variable speeds, robust sanding capabilities, a levelling guide for flat planing, a chip catcher and dust collection, the PCU is the new standard for power carving excellence.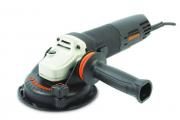 Take your project-building skills to the next level with the Kreg Adaptive Cutting System. It offers all the advantages of a guided cutting system for cutting plywood, panels and solid-wood boards with its high-performance Plunge Saw and Guide Track. Plus, the Project Table takes the Adaptive Cutting System to unparalleled levels of versatility, precision, safety and portability by creating a compact cutting center that allows you to rip, crosscut, mitre, bevel, cut angles and more in plywood and solid wood. Whether you're cutting solid wood or plywood, wher­ever you're working – from the garage to the driveway to the workshop – and whatever you're creating, you can take your project-building skills to the next level with the versatile, precise, safe and portable system that adapts to your needs.
The five-stage turbine motor develops approximately 9.5 psi allowing you to apply a finish faster and with less time spent on material preparation. The FUJI Q5 PLATINUM can spray higher viscosity finishes, producing flawless results in less time. Incorporated into its design is a proprietary Heat Dissipation Chamber (HDC) that expels excess heat from the turbine resulting in much cooler operating temperatures. Less heat translates to longer motor life for your turbine. Since the hot air is routed to the rear of the turbine and passes through 60 optimally designed holes the process is silent. A Variable Speed Control Dial allows you to adjust motor speed, pro­viding the ultimate in versatility. Includes a T-Model spray gun with cup, 25′ hose with quick-connect, air control valve, viscosity cup, wrench, cleaning brush and a two-year warranty on parts and labour.
Take CNC routing from the factory into your workshop with the portable 4′ by 8′ Yeti SmartBench – a UK built, large format, budget-friendly CNC router. Featuring touchscreen controls, Wi-Fi and USB connectivity, and onboard design apps. The Yeti is a user-friendly, full-feature three-axis CNC with a 6″ height capacity. Capable of 3D carving in non-ferrous materials and processing cuts, mortises, dados, pockets, and line boring on full panels while you work on other tasks. Disassembles in three min­utes for storage or transport, only requires a vacuum for dust extraction, and comes in 120v or 230v models. A truly universal machine ready for your shop at an affordable price.
The Leigh Box Joint & Beehive Jig (B975) is a multipurpose box joint jig. It's a simple, easy-to-use tool for making 1/2″ and 3/4″ box joints on boards up to 13/16″ thick, and from 1-7/16″ to 17-13/16″ wide. Along with boxes, drawers and benches, it's also well suited for making beehive boxes. Easily adjust joint fit with the included Leigh patented elliptical guide bushing so you can achieve great fit­ting joints every time. Added feature – works on a router table!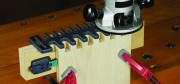 With the Leigh Through Dovetail Jig (TD330) you can make tight-fitting dovetail joints in multiple sizes and on boards of different thicknesses up to 12-7/8″ wide. It's perfect for drawers, boxes, case goods and much more. It can even be used to join boards with different thicknesses. Works with most fixed-base routers with a 1/2″ collet. Leigh's included patented elliptical guide bushing is uniquely adjustable so you can achieve great fitting joints every time. Added feature – works on a router table!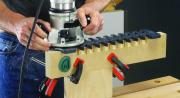 King Canada's Variable Speed Router/Trimmer Combo Kit (8366K) features a powerful 1-1/4 HP motor that can handle a wide range of your daily routing and trimming jobs. The spindle accommodates both 1/4″ and 3/8″ collets. The robust aluminum fixed base has a quick clamp for easy release and a rack & pinion system. The aluminum plunge base has a 1-1/2″ plunge capacity and fine depth adjustment with three pre-set depth stops. A spindle lock enables quick and easy bit changes and eliminates the need for two wrenches.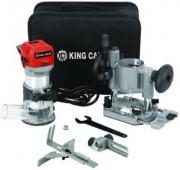 With a Nova G3 Reversible Chuck (48232C) or Nova G3 Pen Turning Chuck Bundle (48265C) lathe chuck you can turn bowls, platters, vessels, pens, tool handles and more. Both economically priced chucks feature a 1″ by 8 TPI right/left hand direct thread, a smooth gear drive for posi­tive and effortless locking, and are compatible with lathes that have up to a 14″ swing over the bed. Both chucks include a 55mm jaw set, four-segment jaw, woodworm screw and T-bar chuck key. The 48265C also includes a pen jaw set.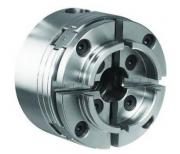 This King Canada 10″ Wet/Dry Sharpener (KC-4900S) has every­thing you need to keep your plane blades, chisels, knives and other cut­ting tools razor sharp. A heavy-duty 1.6 amp motor quietly rotates a 10″ by 2″ aluminum oxide sharpening wheel and 8″ by 1-1/8″ leather stropping wheel at 115 RPM for maximum precision during sharpening. Includes a two-position universal jig support that adjusts to both horizontal and vertical positions, square edge jig, angle guide, honing compound and a water tray. The KM-130 accessory is also available for holding long and short knives, scissors and axes/hatchets.
The 1HP DVR (Digital Variable Reluctance) Smart Motor on this King Canada 16″ Floor Model Nova Viking DVR Drill Press (83705) doesn't have any belts, pulleys, brushes, permanent magnets or electrical connections to moving parts, and no current flow in the rotor. This means you get smooth, vibra­tion-free, constant torque drilling speeds from 150 to 3,000 RPM. The 83705 features simplified menus, large icons, built-in LEDs and laser guidance, a 4-1/2″ stroke, and a standard MT #2 spindle taper. It's capa­ble of drilling wood, metals, plastics and glass.

Turn your 1.5 to 3 HP dust collector into a heavy-duty two-stage cyclone dust collection system. The King Canada Cyclone Separator (KC-2940S) removes 99% of dust and wood chips before they reach your dust collector. Cyclonic action separates heavy debris from the fine particles and directs them into the 29-gallon steel drum. The drum has quick-release latches for easy debris disposal and castor wheels for porta­bility. Includes a 6″ inlet with two 4″ adaptors.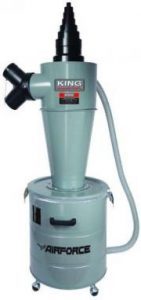 Regular household and shop vacuums aren't designed to handle fireplace ash, sheetrock dust or other ultrafine dust. What you need is a specialty vac. The King Canada Ash Vacuum (8521AV) features a powerful 6 HP motor that generates 375 peak air watts that quickly and efficiently sucks up debris and deposits it into a five-gallon cannister. Quick-release lid clips make it easy to remove the top and empty the cannister. Reposition the hose to convert the vacuum to a blower. The vac comes complete with HEPA cartridge filter, durable
3 ft. x 1-1/4″ hose, 9″ aluminum nozzle, and 10-foot power cord.
With a smooth sanded, flat and consistent surface, Canadian-made FSC-certified PureBond Aspen Plywood is suitable for woodworking projects that will be painted – from cabinetry to closets, shelving, entertainment centres, tables, shelves, headboards, wall panels and furniture. The lightweight, all-wood veneer construction also makes it the per­fect substrate for veneering, high-pressure laminate or other specialty surface treatments. These economically priced 4′ by 8′ panels are available in 1/4″, 1/2″ and 3/4″ thicknesses, and made with soy-based, formaldehyde-free PureBond technology so they won't degrade your indoor air quality.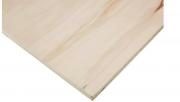 Engineered from the start to offer a clean ergonomic design, Bessey EHK Series Trigger Clamps are available in a range of clamping forces, from 40 to 600 pounds, and in sizes from 4-1/2″ to 50″. No tools are required for conversion from clamping to spreading, and remov­able soft-touch jaw pads eliminate marring of work. Ergonomically shaped com­posite handles with an integrated trigger make it easy to achieve maximum clamping force.
The CanCam D-23LT miniTron desktop CNC router with optional fold-out legs fits into tight work areas. It provides a 24″ by 36″ machining bed and has a positioning accuracy of 0.0079″ and a cutting speed of 240″ per minute. The constant power air-cooled high-frequency spindle performs reliably at high speeds. The miniTron offers low noise operation, low maintenance and a long service life. Features include a high-efficiency TBI ball screw drive for smooth and durable performance and long service life; a NK105 embedded IPC-based controller; Delta variable frequency drive for constant torque; and high-performance Yako Stepper Motor Drive for reduced noise and increased steadiness.
Wood veneer artist Patrick Skidd, whose work has been seen on three Lee Valley catalogue covers, is offering a limited-edition introductory series of 300 DIY kits in eight brilliantly colourful options. Patrick's how-to video guides you through his amazing unique lamination and shaping process to help you produce your own stunning 3D art pieces. The kits are for all skill levels and include carefully sourced and prepared components to achieve high-quality, stunning results. Everything you need is in the box.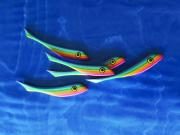 The Klingspor PS 29 F ACT Wide Belt features an open coating F-weight paper backing featuring an antistatic coating that holds up exceptionally well and produces an impressively uniform scratch pattern on softwood surfaces. Combined with the best bonding agent formulated from Klingspor's ACT Technology, these belts deliver outstanding stock removal, phenomenal service life and minimal clogging. Many sizes are  available directly from our stock or custom belts of any size can be ordered from our manufacturing facility in Stoney Creek, ON!
Klingspor Film Back Discs (FP 77 KT-ACT), with optimized clogging behaviour, are specifi­cally designed for paint, varnish, filler, primer, gel coats and compos­ite materials. These highly flexible aluminium oxide self-fastening film-backed discs deliver increased service life due to a new coating that prevents the adhesion of paint and dust particles. Available in 5″ and 6″ diameters with grit sizes from 240 to 2,000 and in various hole patterns.
The MANPA Power Carving Attachment lineup has been evolv­ing since 1988. The Multi Cutter provides a smooth cut with its low vibration and carbide insert cutters. It is a safer carving alternative to other grinder-attached cutting devices, with a belt drive system that allows the head to slip instead of kicking back when the situation arises. With mul­tiple cutter options and extensions, it is truly a versatile tool. For when your project is too large or requires a lot of stock removal, there is noth­ing like MANPA Tools to do the job and carve away wood as easy as cutting through butter.
Odie's Oil (OOUNI9OZ) is a proprietary blend of oils and waxes, born out of inspiration, hard work and a driv­ing need to solve problems specific to the woodworker. The culmination of 30+ years of research, development and field testing in the most extreme environments pro­duced a revolutionary product that out-performs and out-covers the competition. It's great for all species of wood – exotic and domestic – and formulated to work on even the oiliest of woods. Does not contain driers or any toxic chemicals, and all ingredients are food safe.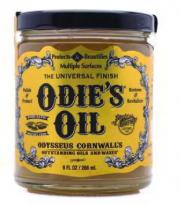 Equipped with an EC-TEC brushless motor, integral LED and many more features, the Festool Cordless Impact Drill TID 18 HPC 4,0 I-Plus (576480) delivers at every level while being supported by a 3-Year Wear-and-Tear Warranty. The TID 18 comes with a free 1/4″ tool holder, integrated bit storage, optimum LED illumination of the work area and belt clip for attachment on both sides. It's available in a tool-only format with a Systainer or in a set that includes two 4.0 Ah high power batter­ies, a rapid charger and Systainer.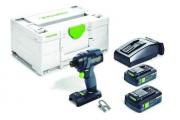 The Festool Edge Sanding Guide (205316) gives you the speed and reliable finish qual­ity that you would otherwise only expect from stationary edge-sanding equipment. Easily and quickly attaches to the 5″ Festool Random Orbit Sander ETS 125 REQ and the Festool Cordless Sander ETSC 125. Its intuitive and ergonomic design adapts to practically any kind of edge, angle or curvature. Create finished results with consistency and in less time than hand sanding.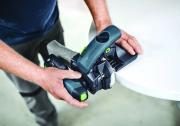 Assemble and disas­semble pens with the all-in-one deluxe Magnum Industrial Deluxe Pen Press (MI-99260). Like a conventional pen press, it assembles pens with control and precision. Thanks to its advanced design, this press also disassembles almost any pen with ease. The sturdy arm features a rubber handle for comfort and a secure grip. An on-board rack stores extra punch rods and a spring-loaded press head. The press includes six push rods (3.0mm, 5.5mm, 6.0mm, 7.0mm, 8.5mm and 9.0mm).
Magnum Industrial Longworth Chucks (MI-99250, MI-99251 and MI-99252), designed for light cut­ting at low speed, are available in 12″, 16″ and 24″ diameters. They feature strong grabbing, non-marring jaws and a smooth adjustment mechanism. As the jaws move in and out, front and back discs are rotated, automatically centering your project on the chuck. Outside grip capacity ranges from 4-1/2″ to 8″ for the 12″ chuck and 6-1/2″ to 22″ for the 24″ chuck. Inside grip capacity ranges from 6-1/2″ to 10″ for the 12″ chuck and 8-1/2″ to 24″ for the 24″ chuck.
The Magnum Industrial Heavy-Duty 12″ Disc Sander (MI-16240) is designed and manufactured to provide long-lasting service for busy production shops, educational facilities and serious woodworking enthusiasts. Its 12″ precision-ground cast-iron disc spins at 1,720 rpm, so you can accurately and efficiently sand workpieces of various shapes and sizes. Whether it's wood, plastic or metal — no problem — simply install the right PSA disc for the project and get started. Adding to this machine's versatility is its tilting cast-iron table with crossing mitre slots and included mitre gauge. These features make it easier to perform repeatable sanding tasks, especially helpful in production settings.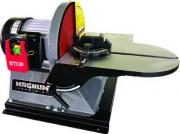 Jointing is an integral part of any woodworking project. The Magnum Industrial 8″ Benchtop Jointer w/ Extensions (MI-81190) offers the perfect solution where space may be a factor in your hobby shop or jobsite that requires a jointer. The MI-81190 has a powerful 120-volt, 10-amp motor and features a strong, durable cast-iron table. The spiral-style cutterhead has 16 sharp carbide four-sided inserts. These provide unparalleled sharp­ness and a lower noise level than the straight-knife cutter­head provides. The long extended fence allows for a 90° to 135° tilt.
Equipped with a true 1.75 HP motor, the Magnum Industrial 10″ 1.75 HP Cabinet Saw (MI-51180) is among the most powerful 110-volt cabinet saws available. And it arrives prewired for 110 volts—no rewiring necessary. The saw features a router table extension wing and deluxe self-aligning rip fence assembly, as well as base-mounted trunnions for stable, vibration-free operation. Its trunnion guides are silicone-coated for smooth action when raising and lowering the blade, and a forged one-piece blade arbor limits runout, helping to make this saw both durable and precise.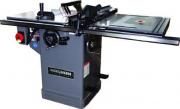 The Magnum Industrial 8″ Low-Speed Bench Grinder (MI-15300) features a totally enclosed ball bearing motor and is designed to be dynamically balanced for smooth operation. With a powerful 3/4 HP motor, this 8″ grinder features a low speed of 1,800 RPM and is ideal for tool and chisel sharpening. Its compact motor housing allows you to press against both buffing wheels without ever touching the motor frame, while its removable wheel guards make it easy to change grinding wheels. The MI-15300 comes with a spark guard and safety eye shields.