A manufactured dozuki is affordable, easy to maintain and resilient. These saws have disposable blades that can be conveniently replaced when the teeth start to find the path of least resistance or become damaged. The softer steel that disposable blades are typically made of keeps both the blade body and base of the teeth flexible, preventing the user from cracking the blade or removing teeth when in use. Originally designed for working with softwoods, impulse-hardened teeth on most modern dozuki have extended the saw's durability and accommodate our love of hardwoods. The dozuki has evolved from a simple joinery saw to one that is also useful for other applications.
For instance, a folding dozuki is perfect for the job site as it can be easily stored and transported. A super-fine-cut dozuki is designed specifically for intricate joinery or detail work found in model, furniture or instrument making. A beading saw is a dozuki that can start a cut inside the outer edge, performing a similar job to the azebiki – a Japanese saw popular for boat building. Found on this saw and some other dozuki is a spline that doesn't travel the full length of the blade, making it also usable for cutting thin plywood or veneers. Wood isn't the only thing today's dozuki are made to cut; some blades work on a variety of household materials, including plastics. These masterful saws have come a long way from their origins, performing a variety of tasks, but they can also provide a safe and timely alternative to working with a machine.
I had the opportunity to compare 12 dozuki, testing each saw on yellow cedar, Honduras mahogany and white oak. With the dozuki that were made to do so, I cut a full tenon to observe the saws crosscut and ripping capabilities.
I also wanted to see if any rip-tooth dozuki would stand out from the rest by testing them on ¾" and 2″ stock. As well, when the situation arose, I tried out the saws for daily shop tasks. Each saw in this article is slightly different from the next, giving you the opportunity to find a dozuki that best fits your method of woodworking.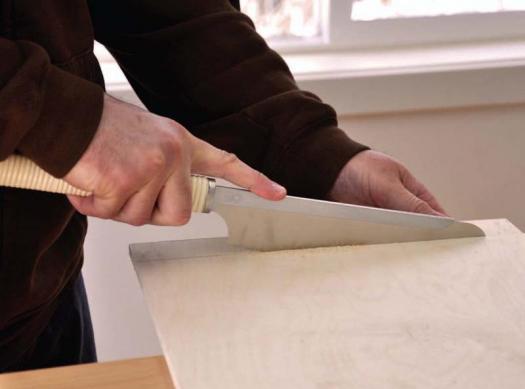 item #: 19.371.0, japanwoodworker.com, US$57.00
This wide-bladed dozuki features a nickel-plated blade that will prevent possible corrosion and ensure a friction-free cutting stroke. As with most crosscut saws, this saw had a slow rip cut but still left an acceptable sawn surface. When cutting the shoulders of the tenons, this saw demonstrated great speed and accuracy, always leaving the sawn surface both flat and smooth. It has impulse-hardened teeth that are short and wide, better suited for cutting hardwoods, yet it still demonstrated a very impressive crosscut on both the Honduras mahogany and yellow cedar. All Gyokucho dozuki tested proved to be very dependable saws.
item #: 60T04.04, leevalley.com, $97.50
This saw was the "Ripping King", cutting through all three sizes of stock by far the quickest. Its ripping speed didn't affect the quality of cut; even on yellow cedar, this saw left a polished and accurate sawn surface. Just as impressive was its crosscutting abilities, cutting 3″ stock faster and more accurately than a crosscut tooth dozuki. Even though it is 24″ long, I would still feel very comfortable using this saw for intricate joinery. Well balanced and user-friendly, this exceptional saw is perfect for both ripping and crosscutting any size of stock. This is my choice for best overall.
item #: 60T06.10, leevalley.com, $29.50
This is a small and solid rip-tooth dozuki with an unconventional Bubinga handle. Its size makes it perfect for accomplishing smaller shop tasks and accommodates easy storage. The secondary bevel on top of the rip teeth enables the saw to crosscut. The saw started off roughly and continued this action throughout the cut, and the sawn surface was only satisfactory in both the rip and crosscut. This is a saw that would stand up to years of use, perfect for small shop tasks, but not one I would use for fine joinery.
item #: 12F27, woodcraft.com, US$54.99
This saw is said to be the top-selling dozuki in Japan, and for good reason. The 26 tpi crosscut tooth blade had little effect against its ripping abilities, performing the rip cut with speed and accuracy. In both the crosscut and rip test, this saw always left a sawn surface that was consistently flat and smooth. The spline is solidly attached to the handle and by lightly tapping on the back side of the spline, the blade can easily be removed. This is a reliable and well-built saw, and was extremely capable of performing consistently and accurately on all three woods tested.
item #: D-GC-#303, hidatool.com, US$32.20
The shorter spline and impulse-hardened teeth are what make this dozuki able to cut wood, plastics and thin sheet goods. Angling the saw slightly off the surface, I was able to rip easily through ¼" and even ¾" Baltic birch plywood. When testing it on the three woods, the saw's speed made the sawn surface rough and would leave the corners broken. This saw cut quickly through plastic, lumber and plywood always accurately following the intended line. Versatile and user-friendly, this saw is perfect for cutting any size of joinery where speed and accuracy are more important then a flawless surface.
bigbeartools.com, $49.95
The 36 teeth/30mm and the 0.2mm Swedish steel blade made this dozuki very user-friendly. When ripping stock over an inch thick, the thin blade bent slightly leaving a surface that wasn't completely flat; this was most noticeable on white oak. However, this saw crosscut like a dream, leaving a flat and smooth surface that was splinter-free even on the smallest of pieces. Perfectly balanced and quality made, this dozuki would be excellent for detail work and intricate joinery found in model, furniture and instrument making.
item #: 384-24, bigbeartools.com, $57.99
It's all in the details when it comes to this solid and well constructed folding joinery saw. The fine blade moved smoothly when locking it into one of two positions. A comfortable rubberized handle protects the teeth when storing the saw or transporting it to a job site. The saw left a mirror finish on all three woods in both the rip and crosscut test. Fine teeth and a tapered blade made starting a cut effortless, maintaining smooth action throughout while holding the line perfectly. It looks like a saw made for the tool box but performed better than most conventional dozuki. This is my choice for best value.
item #: 60T03.15, leevalley.com, $59.50
This saw has an Ikeda tooth pattern that uses a middle "raker" tooth to achieve better control and speed by relieving pressure on the outer teeth. In comparison to most crosscut tooth pattern dozuki tested, this saw did rip slightly quicker, but was comparable to others when cross-cutting. It had a smooth sawing action that required less focus and control to maintain your line. I felt that the brass spline, added to reduce required sawing pressure, made no noticeable difference. The saw left a good surface on all three woods in both the rip and crosscut test.
item #: 19.295.0, japanwoodworker.com, US$30.00
This compact and lightweight dozuki is designed to quickly and accurately rip through wood, plastics and thin sheet goods. The combination of tooth set, and the large and fewer teeth per inch increased this saw's cutting speed and accommodated possible correction of a wondering blade. However, the sawn surface remaining on all three woods was only satisfactory. This saw cut effortlessly through PEX, PVC and other plastics. This small user-friendly dozuki is ideal for smaller shop tasks but one I wouldn't recommend it for fine joinery.
bigbeartools.com, $56.99
This wide-bladed dozuki can perform rip cuts but is better suited as a crosscut saw. The standard 0.3mm blade seemed slightly more pliable than others tested, and this became an issue when cutting the shoulders on the white oak. However, when cutting yellow cedar, this dozuki demonstrated a sawn surface that was both accurate and smooth. On this saw and the Nakaya D-210C, the spline is fixed to the handle and a retaining bolt passes through the handle and the blade to tie it together. Although extra time is spent changing the blade, I preferred this reliable feature instead of your conventional hand-threaded screw.
item#: D-MK-143-210, hidatool.com, $82.60
This saw is machine-made in Mitsukawa''s workshop, with final assembly and adjustments completed by him personally. The blade is made with a slightly harder steel and is not disposable. The large rip teeth made it more difficult to start a cut, and when sawing you had to maintain a parallel or downward sawing motion, with light pressure, to prevent the teeth from catching. On white oak and even on 3″ East Indian rosewood, this saw left a perfectly flat and polished surface. Overall, this is an impressive saw that would be ideal for ripping any size of hardwood stock, but it is not a saw I would recommend for the beginner.
item #: HI-180DR, thebestthings.com, US$94.95
The blade on this Hishika saw is hardened by hand, remaining flexible but with the correct hardness to maintain a durable edge. The blade is also slightly tapered towards the back, which gave it an effortless friction-free stroke. This is one of the three saws in this list that left a flawless surface, performing equally well when ripping and crosscutting in both hard and soft woods. Although it handled larger stock perfectly, the size of its blade made it more appropriate for cutting smaller joinery. From its incredible cutting capabilities to its hand-hammered blade, this traditionally made dozuki is a beautiful saw to use and well worth its price.
I'm a firm believer that you get what you pay for, but that's not to say you have to spend a lot of money to find something decent. Saws that were priced between $50 and $60 were easy to start, performed nicely when sawing and left a surface which would satisfy most of us. The saws priced around the $100 mark handled larger stock better and always left a flawless surface; these saws required a little more skill to use, and didn't always come with a disposable blade. In the end, you have to decide on your own if they are worth the extra cost. The one saw that broke this mould was the Woodboy 240, my choice for best value. A great deal of thought went into designing this saw. Although leaving a slightly larger kerf compared to the other dozuki tested, the surface of the cut remained flawless.
The blade is not your standard production blade; the taper-ground, chrome-plated blade with wide no-set teeth pattern greatly increased the saws handling, performance and quality.
The mechanics that pivoted the blade into the handle were solid and I believe would stand up to years of use. This saw is well worth its price and is one I would be comfortable using for fine joinery. My choice for best overall was the Japanese Rip-Tooth Dozuki, followed closely by the Hishika Dozuki saw and the Z-Saw. This saw demonstrated the precision typical of a professional saw but had the functionality normally found in a beginner saw.
With the amount of dozuki available to us, choosing a saw can be overwhelming. It is best to first determine what you intend to use the saw for and what extras may be important to you (folding blade, shorter spline, the option to cut deep shoulders, etc.). If you are planning on using your dozuki just for cutting dovetails, then invest in a good rip-tooth pattern saw, which will ensure the speed, accuracy and finished surface you are looking for. A wide-blade crosscut-pattern dozuki would do the job, but it is much slower and you would have an unnecessarily large blade to contend with. In my shop, instead of expecting one saw to perform many things, I find it best to have a few of these precise and versatile saws on hand for different applications.