The MPOWER SBS (side-by-side) is a 6-stage sharpening system consisting of 3 monocrystalline diamond benchstones (300-, 600- and 1200-grits) that you use for initial sharpening, and 3 real leather strops with 3 grades of polishing wax (1800, 2500 and 5000 grit) that you use for final honing. The leather strops are fixed to plastic bases that are placed atop the benchstones.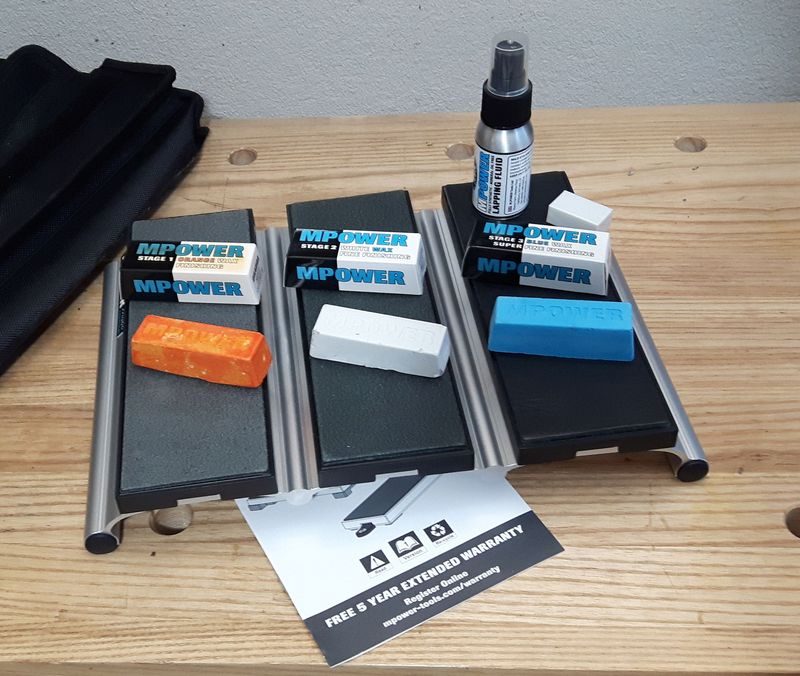 These are non-continuous surface stones – a series of wavy recesses serve to collect the swarf produced during the sharpening process. The stones use monocrystalline diamonds, which are comprised of single (unfractured) crystals, unlike polycrystalline diamonds that consist of multiple particle crystals that have a tendency to break down more readily in use. The kit comes with a small bottle of lubricant. A squirt or two helps the stone to work more effectively by moving swarf away from the cutting surface and into the recesses. It also makes it easier to clean the stones.
What I particularly like about this system is it's ease of use. Everything is together in one convenient package and stored in a handy fabric case. The benchstones are a generous 3″ x 8″, which makes it easier to work on large plane blades. The smoothness of the leather strops are graduated – somewhat coarse on the strop that you use with the 1,800-grit polishing wax but noticeably smoother on the strop for the 5000-grit wax. To ensure you use the correct stropping compound with the right strop MPOWER has labelled each strop.
You can work across three sides on the two outside stones, but only on the top and bottom side of the middle stone. I found it a tad inconvenient when working the back of chisels and plane blade – but not a deal breaker for me.
The two coarse stones (300- and 600-grit) are for reshaping damaged edges.  The 1200-grits stone (and the leather strops) will likely get more use as they'll put on a razor sharp edge to your cutting tools. I find that once a chisel or plane blade gets dull I get the best results by first going to the 1200-grit stone and then proceeding through all three stropping stages to get the best finish.
In my testing I found that the diamond stones cut very quickly while the strops and compounds worked remarkably well. If you're willing to take the time necessary, and not skip a step, you can achieve a nearly mirror polished surface on your chisels and plane blades. While I haven't done so yet, you can use this system for most of your knives and carving gouges. Because of the position of the middle stone, you probably won't use this system for sharpening drawknife blades, adzes or other larger cutting tools. Fortunately, you can purchase these same diamond stones as single and double-sided stones. Checkout the MPOWER website for details.